5 common moving mistakes for newlyweds
Congratulations on finally tying the knot! It doesn't matter how old you are as this is one of the biggest decisions you will make in life. It goes without saying that you want everything to go without a fault, as you are looking forward to lifelong happiness with your significant other. A lot of that happiness depends on how you start out in life. That being said, there are some moving mistakes for newlyweds that you ought to be aware of. These are only some of the things newlyweds have a problem with when starting out their life together. Whether you are moving to Idaho with your significant other, relocating to Las Vegas, or moving down the block, we are going to bring your attention to five of the most common problems you might encounter on your journey.
1. You don't have a financial plan in place
If you are a newlywed, chances are (and studies show) that you are in your twenties or thirties. As a young person that doesn't have an established career, you might find it difficult to navigate your finances. However, if you have gotten married, then you can't afford to keep up with your bachelor/bachelorette lifestyle. Your expenses are most likely going to double up, so you have to be smart and think about them in time.
One of the worst mistakes new married couples make is failing to create a detailed financial plan. We here at Peasley Moving & Storage aren't suggesting that you create a plan for every penny that you make. However, you have to know what portion of your income is going to savings, how much is going for utilities and rent/mortgage, and how much you will have left for day-to-day life.
Don't forget to factor in the price of your relocation. You will have to pay a good amount of money for your Idaho international movers. Apart from your moving team, your relocation is definitely going to require some funds that you will have to spend on things such as moving boxes, packing supplies, and plane tickets/gas. It would be nice to have this money ready ahead of time.
2. You haven't set clear boundaries with your family and friends
The transition from single life to married life is going to be hard for more than just you and your partner – it's also going to be difficult for your immediate circle. Up until now, your parents and siblings were considered your family. And you might have gone out for drinks with your friends every other night. Now that you are married, everything is about to change. And one of the worst moving mistakes newlywed people make is failing to set boundaries with their friends and family. The people you love need to understand that you have a new family now, and it consists of you, your husband/wife, and potential children.
That's why you need to get ready for your move by having a talk with your immediate circle about what is and what isn't allowed in your new household. Of course, the moving preparation will also consist of you hiring movers and looking into the best storage pods Boise has to offer. But it also has to consist of a much-needed talk with your family and in-laws.
3. The lack of friends is one of the biggest moving mistakes for newlyweds
It definitely stands that you should set boundaries with your family and friends – but that doesn't mean you should alienate yourself from them. Keeping up with your friends and hobbies is very important after getting married. Of course, your spouse should be your priority, but he or she shouldn't take up all of your time. For the sake of your relationship, it is very important to keep in touch with your social circle.
The same goes for hobbies – don't leave them behind just because you have gotten married. You can cut down on the time you spend on your hobby if it happens to intervene with the quality time you spend with your partner, but you shouldn't give up on what you are passionate about. That's one of the worst things you can do as a newlywed and it will have a bad impact on your married life.
4. You fail to take the other person's opinion into consideration
Married life is all about compromises. In fact, we'll go as far as to say that the ability (or inability) to make compromises is the thing that will affect your life the most. As reliable local movers in Boise, we have a chance to witness this disagreement between couples on a regular basis. That's why we know how detrimental the inability to compromise can be. Bear in mind that you will have to take the other person's opinions into consideration from the moment you say 'I do'. From the decisions related to the relocation process to the ones related to kids, the road sure is paved with mutual decisions and agreements.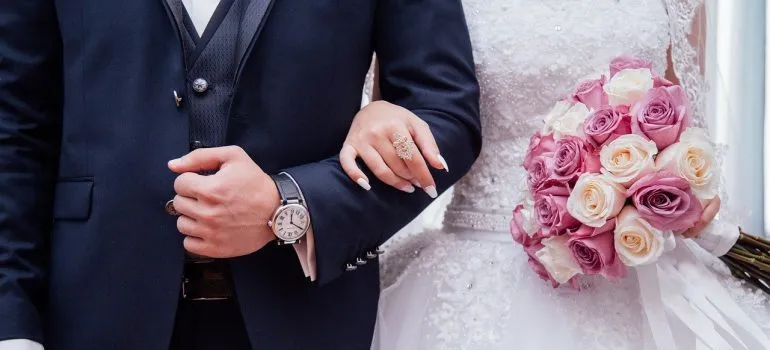 5. Unrealistic expectations is one of the worst moving mistakes newlyweds make
Finally, it's very important to know what you want out of your move and out of your life. It's very unrealistic to expect married life to be all butterflies and rainbows. In fact, those expectations are one of the worst moving mistakes for newlyweds, and it's the one people make all the time. Many people expect their partner to be romantic at all times, but that's just not going to happen when married. What you need to do is figure out what it is that you want out of your partner. Remember – the emphasis is on being realistic. Otherwise, you are not going to have a good start in married life, which would be devastating.

Everyone from the packers to the movers were awesome! They were all very professional and showed up when they were supposed to. would definitely use them again.
Let our team put together a comprehensive moving plan for you. Complete our simple free quote form or contact us at 1-208-375-0961.