3 Important Things to Remember When Planning a Move
Planning a move is necessary, regardless of whether or not you're moving for the first time. Doing so is imperative if you want to ensure a smooth, stress-free, and quick relocation. Without any planning, moving can quickly become a hectic, time-consuming, and expensive experience. With just a little pre-planning, you can easily avoid these problems. Knowing the benefits of pre-planning is the first step toward a successful and easy relocation. The next step? Making your pre-move checklist. Undoubtedly, there are many things to remember when planning a move. This is exactly why it is vital to write them all down, so as to not forget them in the moving chaos. Some moving tasks are more important than others, but even the smaller ones are very important to ensure a successful relocation. Here, we'll cover a few crucial things which you simply can't forget before the big day arrives.
The 3 key things to keep in mind
Pre-move checklists can include a wide range of different tasks which are entirely customizable for your move. Some tasks can save you money and keep stress levels to a minimum, which makes it easier to have a successful move. While putting together your list, you may go through tasks such as balancing out your budget or taking care of some important paperwork. You will also cover some more important key points. Like finding the best moving services in Boise ID, for example.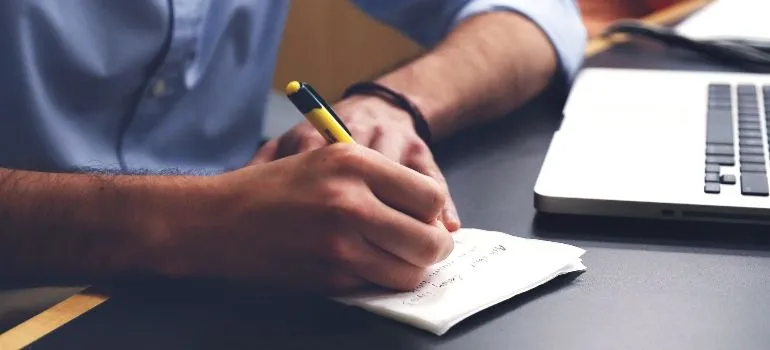 Now, as we've mentioned, your list is fully customizable based on your moving needs. You might have to do some tasks others usually don't have to. Some people require furniture disassembly, while others don't. Consider these helpful tips when creating your pre-move checklist. Now, let's go over the three things to remember when planning a move, and learn why they're so important.
#1 Hire professional movers and packers 
A solid team of movers is the foundation of a successful relocation. Although you technically could do everything on your own, we strongly advise against it. A DIY move can take longer than expected, and cost more than expected. If you really want to ensure everything is fast and safe, your success relies on local movers Boise residents recommend.
Not only does a team of expert movers have the necessary knowledge to safely relocate you, but they also have the right tools for the job too! This means that you'll be safe from injury and that your items will be damage-free. And, best of all, good movers can help you work on and improve your moving checklist for maximum efficiency. Better yet, they could completely take over the process, plan everything out, and ensure there are no obstacles in the way.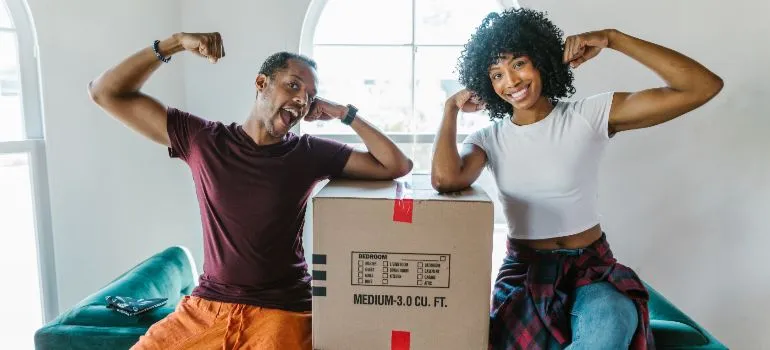 If you want to maintain control over the moving process, you can utilize your chosen moving company for other vital tasks. Packing, for example, is undeniably the most time-consuming aspect of moving. The reason for this is the fact that it doesn't just boil down to throwing a few items in a box and hoping for the best. It is a layered, and complex process. Not only do you need to buy boxes, tape, and padding, but you must pack strategically to ensure items are safe and organized.
Fortunately, professional movers can take this burden off your hands, with their full-service packing arrangements. They have years of training and experience to get this tedious task done in half the time – often with far better results. Peasley Boise packing experts will bring top-quality materials with them, and utilize them to perfection, to ensure absolute safety for your items.
#2 Clean out your belongings
One of the best ways to save money when planning a move is by purging your possessions. There are two main benefits to doing this. For one, decluttering helps you affirm control over your life and household. By getting rid of excess items, you will have a cleaner, more organized home. In addition, the fewer items you have, the easier and less expensive the move will be. This is why Peasley Moving & Storage suggests that you should declutter at least once a year to maintain a tidy home. When you're done cleaning, not only will packing take less time, but moving costs, which are often determined by weight will be lower. And, on top of that, life at your new home can begin clutter-free. Remember this when planning your move, and you'll soon see just how beneficial decluttering is.
To start cleaning, begin by collecting your items in one big pile, in an open space. Take inventory of everything you own and decide what can be sold, donated, or trashed. Once you've established the basis, create a 'trash', 'sell', and 'donate' piles. Everything that is too worn down to be used can be sent off for recycling. Items such as spare clothing or leftover canned foods can be donated to a nearby charitable organization of your choice.
Electronic items or spare parts can be sold either online or by organizing a yard sale. Once you're done, you'll have a severely reduced pile of items, which will expedite the packing process, and reduce the costs of shipping and crating. All things considered, these are great benefits to the moving process. Plus, if you sold anything, you will gain extra funds, which will greatly help in reinforcing your moving budget.
#3 Determine if storage is necessary
Sometimes, even after cleaning out, we find ourselves faced with too much stuff. If you are running out of space, but aren't ready to part with certain items, you need to think of an alternative solution. As another example, you might want to renovate your new home before you fully move in. The problem arises with the fact that immediately filling your house with items makes said remodeling a more complex process. This is why you need to safely put away your belongings to proceed with work unobstructed. Regardless if you need a temporary place to keep your items or a permanent way to make more room in your home, there is no better solution than renting a storage unit. With that said, having extensive storage options is among the more important things to remember when planning a move.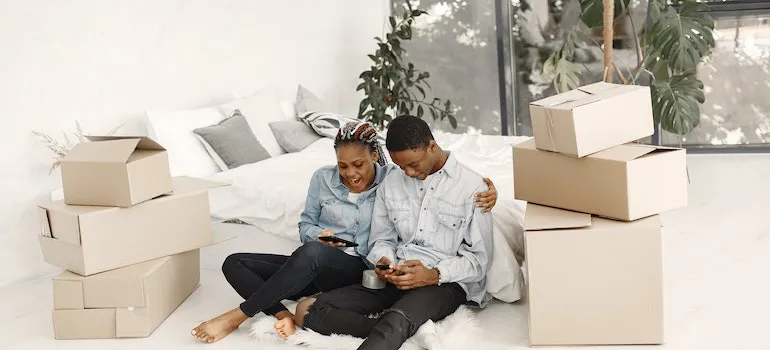 Professional movers will often have access to remote storage facilities in your new location and can help find the one that suits your needs best. For best results, think about the available storage solutions long before the moving day. Scrambling to find last-minute storage causes unnecessary stress that can easily be avoided. A good moving company will offer you a variety of storage units, with different sizes and commodities.
To emphasize, every move is different, and your choice of storage will depend on your specific circumstances. Make a rough estimate of the number of items you have, and then select a storage unit slightly larger than that, to avoid renting a smaller unit than required. Lastly, if you have any sensitive items that require special treatment, do remember that there are options for renting a climate-controlled storage unit, which will keep your items in optimal condition.
When planning a move, consider Peasley Moving & Storage
As you've seen by now, proper planning guarantees success. And, although every move is different, there are certain key points that unite them all. These important things to remember when planning a move, are the staples of a smooth, and safe moving experience. However, even with these aspects covered, you still need a reliable team of movers to achieve greatness. When deciding how to make your move a success, consider contacting Peasley Moving & Storage for professional moving services. As an industry leader in the Boise Treasure Valley for over 130 years, we've built a reputation of trust and reliability. We'd be more than happy to advise you on developing the perfect moving checklist. Additionally, we can take the heavy burden of moving off of your shoulders, by taking care of all of the hard work. With a reputable moving company and a solid plan, success is an absolute guarantee.

Everyone from the packers to the movers were awesome! They were all very professional and showed up when they were supposed to. would definitely use them again.
Let our team put together a comprehensive moving plan for you. Complete our simple free quote form or contact us at 1-208-375-0961.