Tips for properly packing and moving fine china
Fragile items are one of the major reasons why people get headaches when moving. They demand detailed preparation, cautious packing, and careful handling. But, when said items are also valuable, the same process becomes nerve-wracking. And, let's face it – china pieces always are. However, although they do require extra attention, packing and moving fine china can be stress-free. This guide will walk you through the process, whether you're moving them straight to your new home or using Idaho storage solutions to keep them safe for a prolonged period.
Professional help is always the best choice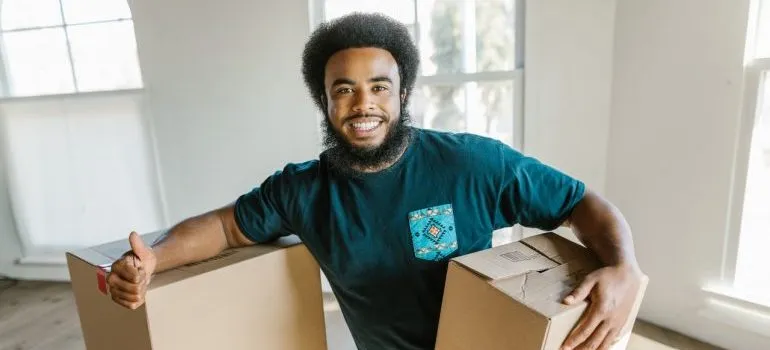 Packing and moving fine china is not for the faint of heart. It takes time, patience, and finesse to pull it off – and professional packers have it all. Furthermore, they come with ample experience, proper training, and adequate tools. Therefore, they are your best bet if you want your china transported in one piece. And, since their services are quite affordable, this should always be your go-to option. So, if you're already using moving services Boise ID companies offer, be sure to include packing in your moving plan.
Going full-on DIY? This is how you do it
Preparing your fine china pieces for moving DIY-style is far from impossible. However, to ensure their safety, proper preparation is the key. So, let's dive right in.
Supplies
Opting for quality packing supplies Boise moving companies offer is the best way to keep your china safe. They provide excellent protection for your items, and come in standardized sizes, making stacking easier. Thus, they provide even more security during transportation. Here's what you'll need to pull it off:
Moving boxes – Opt for small to mid-sized boxes. China is heavy, although it might not look like it. So, it's best to split the weight into a few boxes, than risk pieces crushing each other;
Packing tape – you'll need this to strengthen and seal the boxes. NOT for securing the china;
Painters tape – THIS is for securing the china. Painters tape provides enough integrity, yet is easy to remove without leaving sticky residue;
Glassine paper – optional but highly recommended;
Brown paper – optional but even more highly recommended;
Bubble wrap – simply a must! You can't expect your china to survive a long trip without bubble wrap. Also, the excess will provide great stress relief. So, it's more than worth it.
Packing peanuts – definitely the best choice for padding.
Right about now, you probably thinking "That's quite the load of packing materials". Well, the thing is – it's not. After all, you're not transporting an entire warehouse worth of fine china – only a few boxes. So, you won't spend a lot on these materials, even if you opt for top-quality ones!
The essential tip: DO NOT cut corners
Stay away from used boxes and alternative packing materials, such as newspapers, for instance. This is not an occasion where you can afford to be cheap. China's pieces are extremely valuable and even more fragile. They need the best protection you can provide. Alternative solutions simply don't have the integrity necessary for it. Remember, everything you save on packing materials, you risk spending on buying new pieces of china. That is IF you can find matching pieces, which is next to impossible. However, if you already have old boxes and newspapers – don't throw them away. Although they are less than ideal for packing, you can still use them (more on this later).
Tools
Next, you'll need proper tools to pack your china. Fortunately, this list is quite short, as the only tools you need are:
A blanket, to spread over the floor or table where you'll pack your china;
A sharp pair of scissors, packing knife, or an X-acto knife;
Markers for labeling the boxes.
Packing and moving fine china – step by step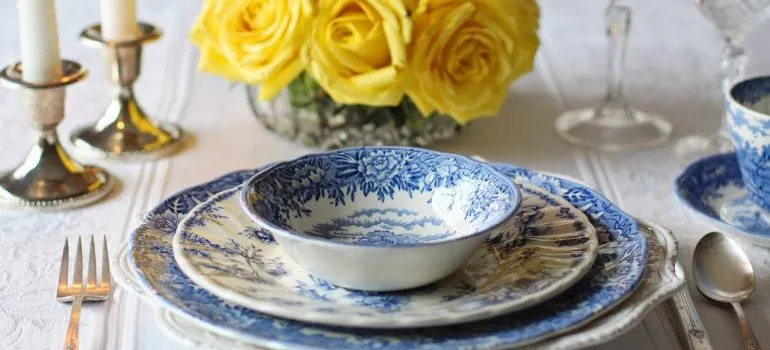 With preparations out of the way, it's time for the difficult part. Packing and moving fine china is a lengthy process, so make sure you set some time aside. Or, you can split it into phases, to make it easier.
#1 – Prepare the packing area
Wipe clean the surface you'll use to pack your fine china and spread the blanket (or two) over it;
Make sure you have all packing materials within reach, so you don't waste precious time.
#2 – Separate pieces of china
Not all pieces of china are packed the same way. Nor should you pack different pieces together. So, separate flat pieces (plates and serving dishes) from the deep ones (bowls and cups).
#3 – Wrap it up
You'll have to wrap every single piece separately:
(optional) Wrap in glassine paper first. One layer will suffice;
Next, wrap the piece in one or two sheets of brown paper;
Secure the paper in place with painter's tape.
Wrap the piece in bubble wrap. Two layers are enough;
Secure the bubble wrap in place with packing tape.
#4 – Prepare the box
This is a crucial step in the process. Preparing the box is as important as preparing the china itself.
Strengthen the bottom and sides of the box with packing tape. Note that this step isn't critical, but it does provide more integrity to the box. And that's always a good thing.
Add a layer of padding on the bottom. For this, you can use packing peanuts (ideal) but, also, crumpled brown paper, bubble wrap, and even old newspaper. Be generous! Padding provides necessary amortization during transport, which reduces the chance of pieces jumping around and breaking.
#5 – placing the pieces in boxes
Now, this is the tricky part, mainly because it isn't as intuitive as it should be.
Plates, trays, lids, and other "shallow", flat dishes you'll need to place on their sides.
Cups, bowls, and other "deep" dishes, you'll place in the serving position (i.e. bottom-down).
This is essential for packing and moving china, as individual pieces are more resilient when placed like this.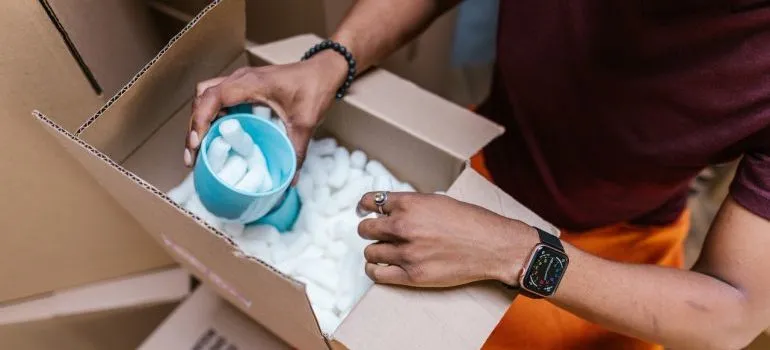 Remember those old boxes? Now it's time to put them to good use:
For flat pieces, add a piece of cardboard in between, to prevent them from bumping into each other;
For deep pieces (since they're usually smaller), cardboard is a way to save space in boxes. Separate lines and rows, add cardboard piece on top, then stack again, until the box is full.
#6 – Sealing the box
When sealing the box, first, you need to fill the space with additional padding. Packing peanuts remain the best choice here, too. However, alternatives work just as well – as long as you don't leave any wiggle room. So, once you fill the remaining space, move and shake the box a bit. If you feel any movement inside, it means you didn't add enough padding. Repeat until nothing moves and only then seal the box with packing tape.
Label the boxes for easier stacking and unpacking.
#7 – Stacking the boxes of china into the moving truck
There are only two things to be mindful of here:
Make sure china boxes cannot bounce around. So, either secure them in place with some moving straps or place them so other boxes provide necessary support;
Make sure nothing crushes them. If you followed the above advice, there's no doubt you prepared your china for moving properly. Even so, the weight of other items can still crush them. So, be sure to stack your china boxes on or near the top.
With your china safe, it's time to get the show on the road
That's it! You're all done! Now your china is ready to ship out and make it to your new place in one piece. However, if you have any doubts, or get stuck mid-way through the process, don't be afraid to consult the professionals. After all, even good advice makes packing and moving fine china easier.

Everyone from the packers to the movers were awesome! They were all very professional and showed up when they were supposed to. would definitely use them again.
Let our team put together a comprehensive moving plan for you. Complete our simple free quote form or contact us at 1-208-375-0961.