Tips for packing your medicine cabinet
The packing process for a relocation can be a long and arduous. You need to make sure that all of your belongings are well protected and ready for their journey to your new home or office. And some things may require a bit more thought. Packing the medicine cabinet is one of those things. Whether you want to utilize one of Idaho storage solutions or not, you will want to ensure that all the items within are properly packed. And that can be a bit tricky if you haven't done it before. In this article, we are going to walk you through the entire process of packing your medicine cabinet.
How to go about packing your medicine cabinet
If you want to have the easiest time packing the cabinet, here's what you will need to do:
Obtain the necessary packing supplies
Discard any items that are expired and/or can be easily replaced
Use proper containers
Avoid packing any essential items
Another great way of going about this task is to see if any of your friends or family members have already gone through this same process. They will be able to provide you with their own insights, making the whole ordeal a lot safer and less complicated.
Alternatively, you can always turn to professionals for assistance. By hiring one of the moving services Boise ID has to offer, you will practically eliminate the need to pack anything on your own. This may be your best option if you have a lot of sensitive items inside your medicine cabinet. Professional movers have all the know-how and required equipment to make sure that your belongings are as safe as possible throughout the transition.
With that said, if you still want to go about packing the medicine cabinet on your own, here's how to do it in greater detail:
Required packing materials
Packing the medicine cabinet requires much the same supplies as for most of your other belongings. Therefore, you are going to need:
Zip-top bags
Packing tape
Moving boxes
A few markers
Packing paper
Depending on what is inside the medicine cabinet, you may need additional supplies, as well. The best thing to do is to consult with professionals if you have any doubts, as they will be able to advise you on how to proceed. You can get most of the packing supplies Boise from your movers, as well. By having your movers deliver the supplies to your doorstep, you are eliminating the time it takes to obtain the supplies in the first place. And that means more time that you can spend on completing the relocation tasks.
Don't simply pack everything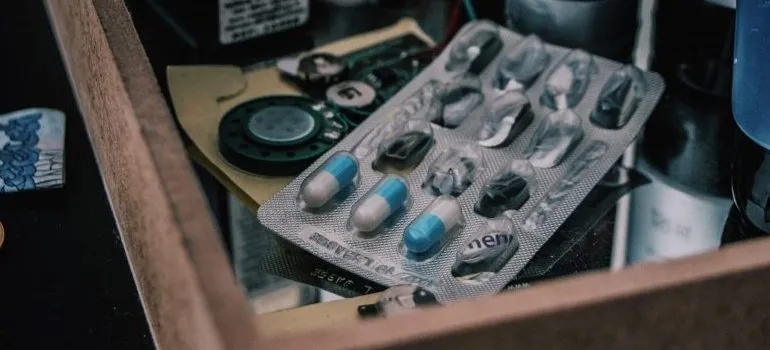 While your first impulse may be to simply pack the entire contents of the medicine cabinet, this is not the smartest thing to do. You will want to take some time to verify whether any items are past their expiration date first. These items you will discard, as they are not serving any purpose anymore and can be potentially dangerous to use. Also, check if your cabinet contains items that are easily replaceable. You don't want to be overpacking if you can simply procure the items at your new location without any effort.
If you find that, at any point in the packing process, you simply have too many boxes for your new home to fit, you may want to consider a portable self storage option. This will allow you to bring a lot more items with you than you otherwise could.
Utilize the right containers for the job
The fact of the matter is that plenty of items inside the medicine cabinet are going to be in liquid form. To safely transport liquids, you are going to need a few leak-proof containers. And if you are flying, you may want to brush up on TSA Liquids rule. Ideally, you will utilize the containers made solely for the purpose. But if that is not an option, you may want to invest in plastic containers.
Having the right container for the items from your medicine cabinet is extremely important. You don't want to have something spill or be damaged when you really need it. Therefore, make sure that your containers are up for the task. Feel free to seek professional advice on the matter if you are unsure about any part of the process.
Do not pack away any essential items when packing your medicine cabinet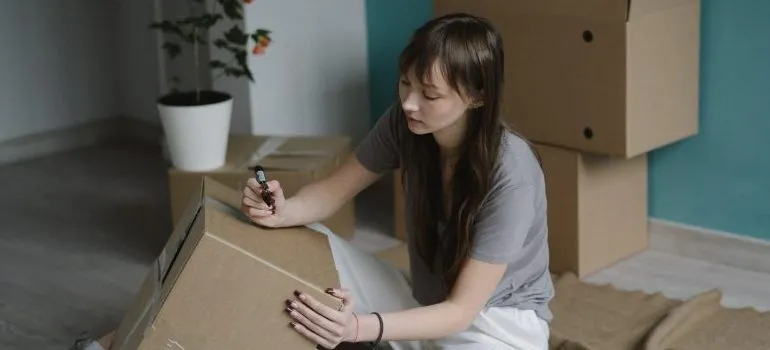 Lastly, there are some items that you will not want to pack. One of the moving staples is to prepare a so-called "essentials bag". This bag needs to contain anything that you may require for a night or two at your new home. And most of the contents of that bag are going to be found inside your medicine cabinet. Therefore, take out some toiletries and anything you simply can't live without even for a day and put it into the essentials bag.
Speaking of the bag, there are some other items you may want to include in there. Aside from all the necessary prescriptions, medications, or any similar items, you will want to pack a change of clothes, an entertainment device or two, and similar. Basically, think about the things that you simply can't live without even for a day or two and pack them into the bag.
Extra tip – Packing linens and towels
While you are in the bathroom, you may want to get another thing sorted out. Inspect the towels, shower curtains, as well as any linens and bathroom rugs you might have. If you find that any of them are too worn out, you may want to replace them at your new home rather than packing them.
After you finish packing the medicine cabinet, utilize packed linens and towels to provide a "buffer" for it. Place the lighter items on top of the cabinet and heavier items beneath it. This will provide additional protection for the cabinet itself, and may prevent any spillage from occurring. Lastly, packing your medicine cabinet might not be the most difficult thing in the world but it certainly merits your careful attention.

Everyone from the packers to the movers were awesome! They were all very professional and showed up when they were supposed to. would definitely use them again.
Let our team put together a comprehensive moving plan for you. Complete our simple free quote form or contact us at 1-208-375-0961.