Things to do before moving to a new office
Every move comes with a handful of stressful and unexpected situations. And it can be even more difficult when it comes to moving an office is involved. Since more people get involved in the process, the move can get pretty chaotic without proper organization and planning. And this is only talking about the relocation itself, once you have everything set and ready. Preparations are a different story – setting your affairs in order, finding the right movers Boise area, and that's just to name a few. If you are looking at an upcoming business relocation, make sure you prepare and plan properly before moving to a new office.
Make a list of tasks before moving to a new office
As we mentioned previously, planning and preparing are crucial for a successful and stressless relocation. There are a lot of things to think about before moving to a new office. So try to make an overall plan and a list of tasks that need to be done. Some of those tasks can be:
Create a moving budget.
Organize your office belongings, including supplies, documents, equipment, etc.
Include your employees in the preparations.
Hire a professional office moving company and check if you need additional services.
Gather necessary packing and moving supplies.
Set your affairs in order.
Make a moving budget
Depending on your office size, moving it may come pretty expensive. This is why you need to create a budget before moving to a new office. This will help you stay on track and prevent losing money if you are not prepared.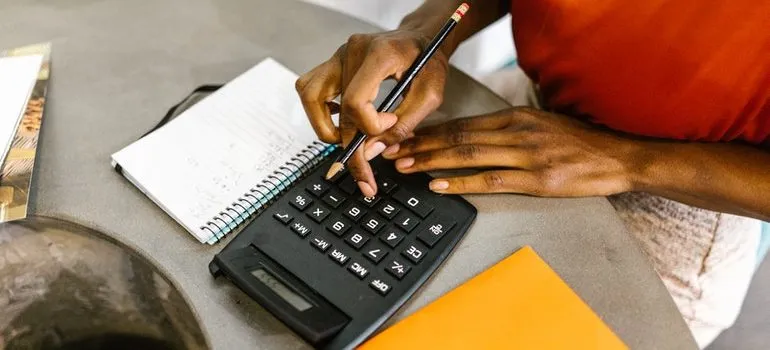 Research moving companies and ask for estimates. Check what kind of services are they offering and what the prices are. Write these things down and choose if you can afford all-in-one service or whether you need to book only the necessary services. For instance, you may need to look for commercial storage for any extra belongings that you will not need at your new office. In the end, even though you think you thought of all moving costs, you should make room in your budget for any unexpected expenses as well.
Declutter your office belongings before moving to a new office
Offices tend to hold a lot of stuff, and a lot of unnecessary items can pile up over time. Relocating can be an excellent opportunity to organize and downsize your office belongings before moving to a new office. It will be hard, but it will be worth it once you move into the new offices. Make an inventory list and consider which items you will need for sure.
For the unnecessary items consider selling, donating, or recycling. For instance, if you have working computers that you plan on upgrading, you can donate them. Look for local schools or nonprofit research centers and ask them if they need technical equipment. For any other items that you have to keep, but there is no room in your new office, look for temperature controlled storage Boise, to make sure they are protected and properly stored.
Include your employees
As the moving preparations before moving to a new office go, you will realize that you can not do everything by yourself. This is why it is advisable to include your employees as much as you can. They will have important knowledge about what is important and what is not, so they will know what to pack.
Make a short task list for each employee before moving to a new office. Address the packing of their personal belongings as well as the office property. Ask them to send you a list of office belongings and supplies that are necessary to them at the new office. Asking them about their needs and thoughts will make them appreciated. Don't forget to reward your employees somehow for their effort and inclusion. The office relocation will be hard on them as much as on you, and it is important to keep their spirit up and loyalty strong.
Hire a professional moving company before moving to a new office
After you have done your inventory list and office declutter, you will know for sure how much stuff are you moving. This will make asking for estimates easier, and more precise. A lot of office equipment and furniture requires special handling, so make sure you find a reliable and professional moving company with experience moving offices. It is very important to do this well before moving to a new office, to be able to adjust if any changes occur and notify the movers on time.
Packing
Well, we all know that packing must be one of the most detested tasks out there. But unfortunately, it's unavoidable. Even more, it is highly advisable to start packing well before moving to a new office. The perfect solution would be to get professional packing services, and not to think about it (that much). However, if hiring a professional packing service is out of your budget, you will have to plan and prepare carefully.
Get packing supplies in time, and get an abundance of them. It is better to have extra boxes than run the risk of not having enough of them. Try to get smaller boxes for packing, as they are easier to handle. Of course, remember to get appropriate packing supplies for your document or other very important office property. Make sure that they are packed and protected nicely before moving to a new office.
Set your affairs in order
Before moving to a new office, it is vital to set all of your affairs in order. Firstly, make sure you notify your clients and partners that you will be in the moving process in order to avoid any uncomfortable situations. Secondly, make sure you cancel or transfer any utilities you are using in your current office. Also, make sure you notify all relative institutions or registries about your address change. This goes for your online profiles and web pages as well. Nothing can clients experience worse than having outdated contact details.

Everyone from the packers to the movers were awesome! They were all very professional and showed up when they were supposed to. would definitely use them again.
Let our team put together a comprehensive moving plan for you. Complete our simple free quote form or contact us at 1-208-375-0961.