Post-move cleanup guide for first-time movers
Making sure that your new home is clean and ready to be inhabited is a huge part of the relocation process. Since cleaning will most likely be necessary, you have two choices. You can handle it on your own, wasting time and energy in the process, or you can opt for hiring professional cleaning services. If you choose the latter, you may want to ask your movers for recommendations. Take into consideration that professional movers often have valuable contacts that can handle such tasks – some even have their own crews handle cleaning for an extra fee. However, if you are set on taking care of the ordeal personally, we can help you save some time. Follow our post-move cleanup guide and do the work on your own!
A simple 4-step post-move cleanup
In a nutshell, these are the things you will want to do:
Make the clean-up easier
Obtain the necessary cleaning supplies
Figure out where to start
Clean one room at a time
While this may seem quite simple, the cleaning process may be quite intricate and will require plenty of effort. Make sure that you are well-rested and in the right state of mind when you arrive at your new home. You might even want to consider storage pods Boise for safeguarding some of your belongings. By storing some of your things, you are going to make the whole process a lot easier for yourself. And that is exactly the first thing that we are going to talk about.
Start by making things easier for you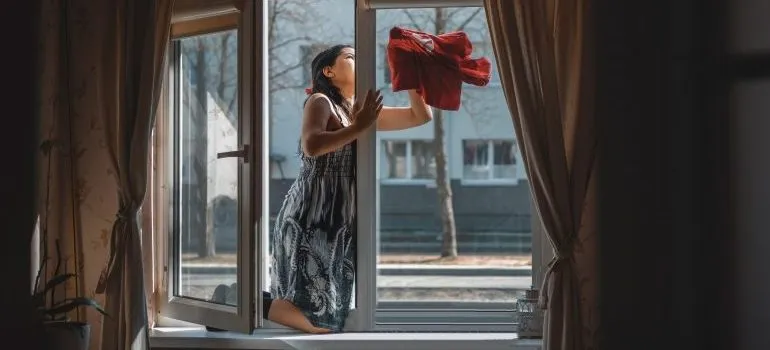 Everything in this world is easier if you have a couple of friends or family members assisting you. Consider asking your friends for a bit of help as that will make the whole endeavor much more bearable. You will also want to prepare in advance, by making a to-do list for everyone involved. That way, every person will know their place and their specific tasks. You may want to book the more demanding tasks such as cleaning the toilet or drainage for yourself, though.
Also, you will want to make sure that there is as little to do concerning your own items after the relocation. That means cleaning your clothes and other belongings before you relocate. If you don't do that, you might find yourself being overwhelmed by the sheer amount of work in front of you. Most Idaho moving companies recommend that you wash and iron all of your clothes, as well as pillowcases, towels, bedcovers, and any similar belongings before packing them. And that doesn't only simplify the packing process. By doing all this work in advance, you are effectively minimizing the work you have to do once you move. And there will be plenty of that, trust us.
Necessary supplies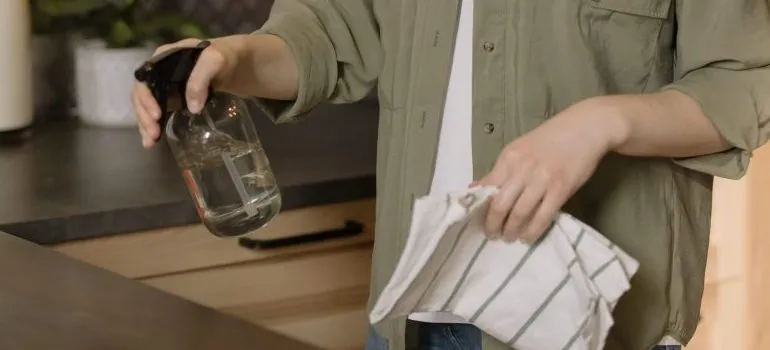 You will want to prepare cleaning supplies ahead of time. Ideally, you will either have them in one of the moving boxes that are the first to come out of the truck. To figure out exactly what you need, you will need to consider the surfaces you have in your new home. These days, you will also want to ensure that all the cleaning supplies are "extra strong". You don't want to take any chances with who lived there before you came along and how they lived.
If you are introducing pets and small children to your new home, you may want to consider eco-friendly supplies instead. Otherwise, go with the strongest stuff on the market. You don't need to break the bank on the supplies, either. You can utilize some homemade stuff, such as vinegar solution and similar.
Knowing where to start is important
Getting into the very core of our post-move cleanup guide, the most important thing when it comes to cleaning is knowing where to start. While this is something that might not be ideal for everyone, starting with the freezer and the fridge is what most interstate movers recommend. That way, you will be able to make a basic meal for your family at any point in the process. And the fridge/freezer cleaning process takes quite some time, as well.
Start by removing all the drawers and shelves. Clean and disinfect each one separately. Utilize a simple vinegar solution and a bit of soap to clean the inside of the fridge. That way, you will make sure to remove any residual smell from the relocation. Make sure that everything is thoroughly scrubbed before you put back the drawers and shelves. With the fridge and the freezer out of the way, you have a bit of lenience when choosing the next room.
Condense your efforts to one room at a time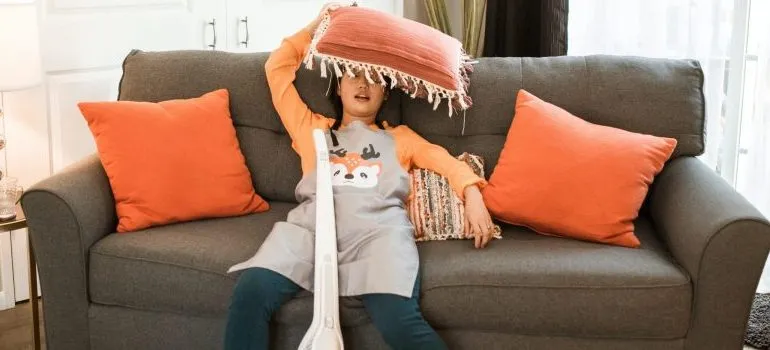 You never want to spread your cleaning effort to multiple rooms. What you want is to go inside one room and not go out until it's done. This will prevent you from having to do things over and over. The only exception to this rule is the bathroom. You will want to start cleaning the bathroom first, yes, but to clean the toilets and sinks, you will need to pour in some chemicals and let them stay there for a while before you come back to it.
While you will want to prioritize the rooms that you are not actively using straight away, make sure to make cleaning your bedroom a priority. You are going to need sleep after all that hard work, after all, and sleeping in a clean, comfy, bed is going to refill the energy you've spent.
If all else fails, there are always cleaning services
Cleaning is a lot of work, truth be told. If you, at any point, figure out that you will simply not be able to manage it on your own, you can always hire cleaning services. While following our post-move cleanup guide is a cheaper alternative, sometimes you simply don't have the time for it. Ideally, you will want to find a good cleaning company ahead of time and schedule the cleaning date. The state of Idaho does not have a shortage of cleaning companies, that's for certain. For best results, arrange matters so that your cleaners do their job before the movers Star ID arrive. That way, the only thing you will need to do is make sure that your own belongings are clean.

Everyone from the packers to the movers were awesome! They were all very professional and showed up when they were supposed to. would definitely use them again.
Let our team put together a comprehensive moving plan for you. Complete our simple free quote form or contact us at 1-208-375-0961.