Moving tips for young couples – off to a good start
In one part, moving in with your sweetheart may just be a dream come true. You are aware of the financial aspects involved, and the level of planning and coordination it takes to pull this off. And you're sure you're ready to move on to the next level. Congratulations, this is a life-changing transition you are about to make. But, if it's to be a positive one, you both have to prepare well and approach it mindfully. With the assistance of pro moving companies Boise, you'll make a swift transit in terms of logistics. However, there are a few important things to consider before making this big step. So, here are a few moving tips for young couples that will give you the lead to a smooth relocation and a happy, stable new home.
Moving tips for young couples taking the next step
Making a decision to move in with your partner is an important milestone in your relationship. So, you've been dating for a while, and you feel that you know a lot about each other. You've talked about your future together. And you feel ready to set up the foundations of a long-term commitment and a happy marriage. However, one of the most crucial pieces of advice for young couples planning a life together is to look at the risks as well. Although you may be ecstatic at this point, you have to ensure that you're taking the leap for all the right reasons.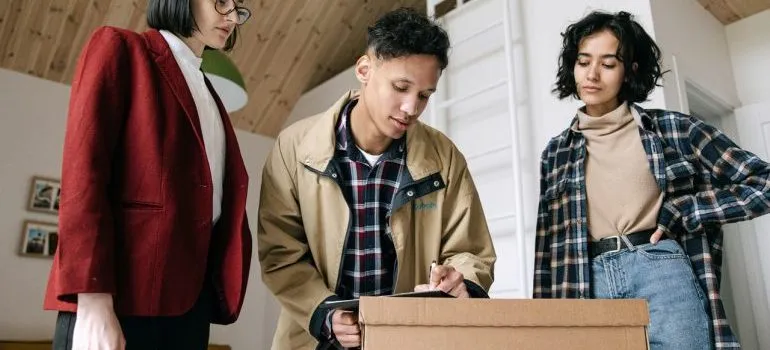 In continuation, our expert Idaho international movers will share a few points for young pairs moving together. Here is what to consider before you jump into it:
Deliberate your decision
Know each other well
Set up a budget
Find the right place
Your belongings
Shared routines
Don't slide into the decision of moving in together
You've probably heard of the expression that love is blind. Hence, ensure that you're not smitten instead of mindfully knowing that this is the person you want to share your life with. However uncomfortable or unlikely this thought could be, there is a chance of a breakup while you're living together. These breakups tend to be more chaotic and devastating than if you'd split otherwise. Thus, keep open communication and talk about your fears too.
Your decision of moving in together as a young couple should be made with enough maturity. And most of all, know what to expect from one another. Therefore, make a point to take the next step consciously, rather than jumping into it without a concrete objective. Only after you've cleared this out, you can start looking for your movers Nampa ID. This is a moving hint for young couples you should take seriously, and allow yourselves enough time to make the right decision.
Spend a lot of time together to get to know each other better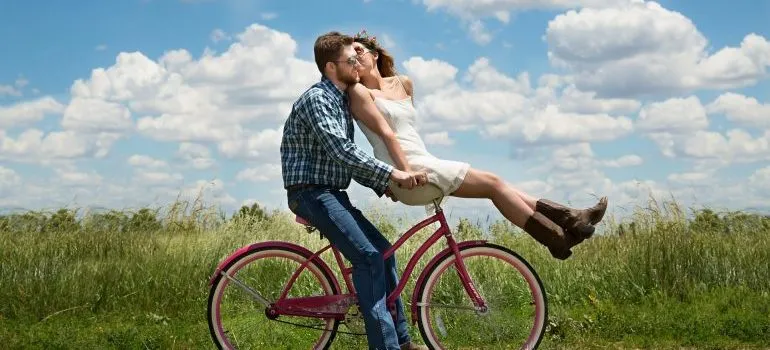 The truth is, relationships change once you start living together. It may be difficult to imagine this now, but spending all of your time with your sweetheart, and under the same roof is likely to change your idea about them. And so, we're on to the next moving advice for young couples. That would be – test your relationship before you take it to the next level. Therefore, take a trip together, and spend at least 2 weeks away from home depending on each other and planning your resources together. This will dispel any illusions and will give you a clear picture of whether you really want to venture on a long journey with your partner, and move in together.
Moving tips for young couples – budget and finances
When you're moving in as a couple, you'll need to create a budget plan that works for you both. Consider that you'll have to share the bills, shop for groceries together, but furnishing for your new home and decorate it. All of this will cost you money, and you'll need to find a compromise that suits you both. Moreover, be honest and sincere about your financial situation, your earning capacity, and potential difficulties that you may be facing. This is an essential moving-in-together tip for young couples, as it will help you avoid fighting over finances later on. Thus, make a plan and figure out how will you share expenses.
Find and decide on your future home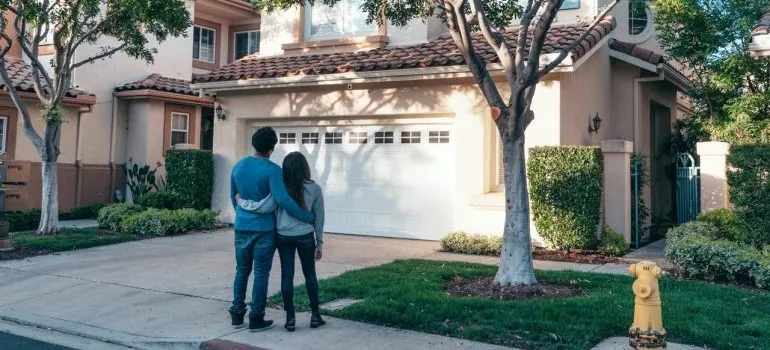 Making a home under one roof with your partner has much to do with a shared sense of ownership. Young couples moving in together are technically starting a new chapter in the relationship, and in life generally. Hence, figure out how should your shared home look and feel like. Will you be moving to their place, are they moving to your place, or do you need to find your new home and both start on a clean slide? Here's a genuine moving hint for young couples that it shouldn't take long to figure on your own. Although making compromises is important, here you may find yourself in a situation that you don't actually want the same things, or you fail to communicate effectively. Either way, keep your feet firmly on the ground and make the relocation decision that makes you happy. 
Moving tips for young couples – sort out your belongings
Moving is much about transferring your possessions to your new home. And since you'll be moving in together with your partner, you'll have two sofas, two drawers, and other duplicate items that you'll need to decide between. Before you order your moving boxes Boise, organize your possessions and decide together what will you keep, toss, donate or keep in storage for the time being. 
Decide on household chores and create boundaries
Surely, you're aware that moving in together means running the household together. Hence, moving advice for young couples that aspire for a healthy, happy, and long-lasting relationship under the same roof would be, to designate responsibilities and share the workload. For example, decide who is going to wash the dishes and who will be taking the garbage out.
Also, remember that now you'll be under the same roof 24/7, and it's easy to feel like you no longer have time and space to do the things you used to love. Therefore, talk about this, and create some space for a me-time in your schedule. With this moving point for young couples, you'll avoid feeling like you're losing your personal space and becoming overwhelmed over time.
And last but not least, ensure you hire a good mover to ensure you're off to a good start. As you know, moving is not a walk in the park. So, you'd like to benefit from as much pro help as you can. Consider your storage options too, as you'll likely need a place for safekeeping. Finally, follow our moving tips for young couples, and enjoy your new beginnings. Good luck.

Everyone from the packers to the movers were awesome! They were all very professional and showed up when they were supposed to. would definitely use them again.
Let our team put together a comprehensive moving plan for you. Complete our simple free quote form or contact us at 1-208-375-0961.