How to store children's toys properly
Whether you're moving out, doing some rearranging, or spring cleaning, a lot of things need to be moved out of the way. Whatever the case, it's important to pack your possessions properly to keep them safe and clean whilst being stored. Certain items require special care and it's not always easy to make the right decision on packing materials and containers. In fact, packing properly can be very complex, as silly as that may sound. This is why it's always a good idea to have some professional help. Professional moving and storage companies, like Peasley Moving & Storage, can be a life-saver for these situations in particular. Fragile and precious items, such as children's toys should be given special care when packing. In this article, we are going to look at how to store children's toys properly for any task.
Deciding which toys to store in the first place
This is the most important part. Before you get into how to store children's toys, you should first consider which toys to keep. This can depend on numerous factors, such as:
Age of the child/ren
Are you planning on having more children
Space constrictions
The usefulness of the toys
Sentimental value
What many parents aren't aware of is that more toys don't necessarily mean that the kids will play better. Kids usually have their favorites they stick to for most of their play. Having extra toys is of no use. Their purpose becomes standing on shelves or laying in boxes and gathering dust. After a certain age, the children will abandon certain toys they no longer find amusing anyways. You should take an honest look at what they have available and determine which of those actually have a place in their lives and your home.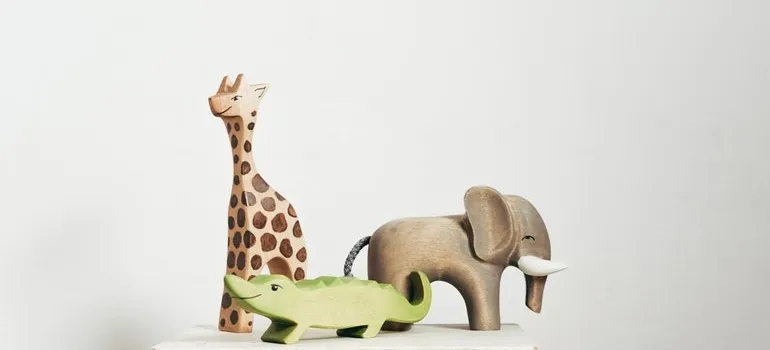 Clear out toys your kids do not need
Some toys are rather large and can be a nuisance to move around and clean, even more so after they've become redundant. Space can be an issue in smaller rooms and having these items laying around is simply not practical. If there are toys you wish to keep for children to come but have no space for them, invest in storage. Find a reliable storage facility Boise ID has available for your needs and rent it.
The last thing to consider is the sentimental value of certain toys. This can pertain to yourself or the child. Many of us have a toy or two we loved as children on a shelf somewhere. Keeping these is like holding on to a family heirloom. These toys will remain in the family for generations, very likely and be handed down. However, if there are toys that have remained past their use and provide no special value, you should consider getting rid of them.
Cleaning the toys
One of the most important things before storing toys is to clean them. When thinking of how to store children's toys properly, it's important to first concern yourself with how to clean them properly. This depends on their material and construction more than anything. If the toys are plastic, with no stickers, you can simply put them in your sink and wash them with liquid soap or liquid dish detergent. However, if the toys have stickers and are painted with colors that could run, you should take care. Use cleaning products that are not as strong, but can do the job, like baby shampoo or wet wipes. Alternatively, you can look into DIY all-purpose cleaning solutions which are not as abrasive. This will provide longevity to the toy and keep them in life long enough for future generations to play with.
Packing the toys
In order to secure these, often fragile, items, it's important to invest in quality packing materials. When asking yourself how to store children's toys, you should also look into how to pack them in a safe manner. Getting moving boxes Boise has in one of it's many stores is a smart investment. Boxes can provide excellent security for even the most fragile items when paired up with additional materials. What makes boxes practical is that they are not only secure but stackable. You can easily stack boxes in a corner somewhere and they will not be getting in the way or fall over.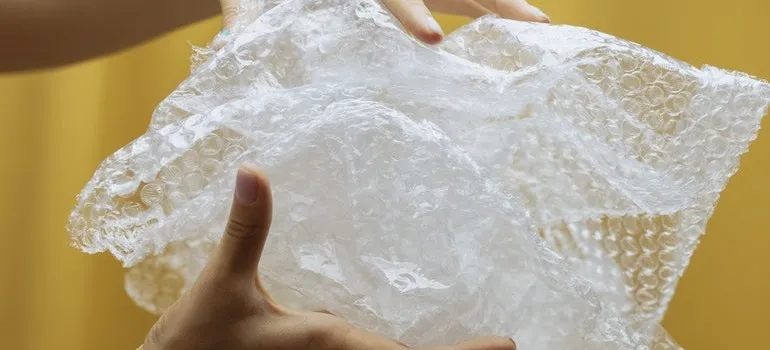 If you invest in some bubble wrap, sponge, or styrofoam, you can keep even the most fragile of toys safe. Simply line the box with some sponge or styrofoam and put wrapped toys in, with enough room that they do not crush one another. You can even use old newspapers for this purpose if you have any old magazines or papers lying around. Paper provides decent cushioning for items like toys and should do the job adequately.
Organizing the toys
There are plenty of ways to organize toys. Companies like Peasley offer inventory storage and can keep your items arranged in any way you desire. What you could do, to make the storing more efficient is to use labels. First off, divide the toys into categories. The categories could be defined by the type of toy or by the age they are designed for. You may come up with some other way you want to categorize them, of course. It is entirely up to you and you should think about what makes the most amount of sense for your future plans. When organizing toys into categories, keep a box for donations or yard sales. If you have toys you are certain will not be useful in the future, consider giving them away.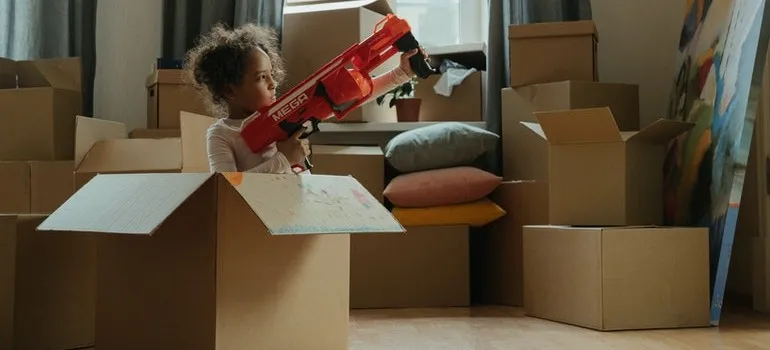 How to store children's toys properly – conclusion
Children's toys are often a source of very dear memories. We want to preserve them for the future, even if all they provide at the current time is sentimental value. With our guide on how to store children's toys properly, you will be able to keep these precious items in the family for a long time. Stick to our guidelines and let future generations enjoy the same toys that brought you many happy moments.

Everyone from the packers to the movers were awesome! They were all very professional and showed up when they were supposed to. would definitely use them again.
Let our team put together a comprehensive moving plan for you. Complete our simple free quote form or contact us at 1-208-375-0961.