How to recognize fraudulent movers?
Moving is a complicated, intricate, and time-consuming process. The good news is that you can find a way around all the complexity that surrounds the moving process. If you are wondering what you have to do, we could tell you that all you have to do is hire reputable Idaho movers – but we know that's easier said than done. Lately, a lot of fraudulent activities have become a sort of an integral part of the moving industry. With all those moving scams and frauds lurking around the corner, it could be hard to fully trust a moving company. But don't worry – our job will be to show you how to recognize fraudulent movers. And your job will be to remember these tactics the next time you are searching for movers.
How to recognize fraudulent movers in five simple steps
If you make it from step one to step five without ticking off any imaginary yes boxes, then you have most likely found a reliable moving company. But we will tell you that even one of these red flags should be enough for you to reconsider your options and find a company in whose credibility you won't doubt. Or at least do some further research.
1. Fraudulent movers usually offer low-ball prices
Let's say you are trying to find movers Star ID and have typed the term in Google. You see many companies popping up, you visit their websites, and request moving estimates. You are looking at the results, and you see a couple of companies with similar pricing and one that appears to be much cheaper. As much as you are trying to have a budget-friendly relocation, we strongly suggest that you stay away from the company with a low-ball offer. These are the companies that almost always turn out to be fraudulent.
Fraudulent movers have no intention of delivering your belongings or ensuring they arrive safely to your new home. That's why their price is so cheap – sometimes, they don't plan to see you ever again.
2. A large deposit is a big red flag
We are not saying that your movers won't ask for a deposit. A reasonable deposit is a staple of many businesses and the same applies to the moving industry. However, the focus here is on the word reasonable. You should never pay a deposit that seems large. How will you know where the limit is? Well, paying 10% of the estimate in advance is completely okay – but paying 50% upfront isn't.
Fraudulent movers profit if you are tied to them – and you can rest assured that you will feel tied once you invest such a large sum. So even once you start noticing additional red flags, you won't be able to back out. Do you now see why it's so important to recognize fraudulent movers in time?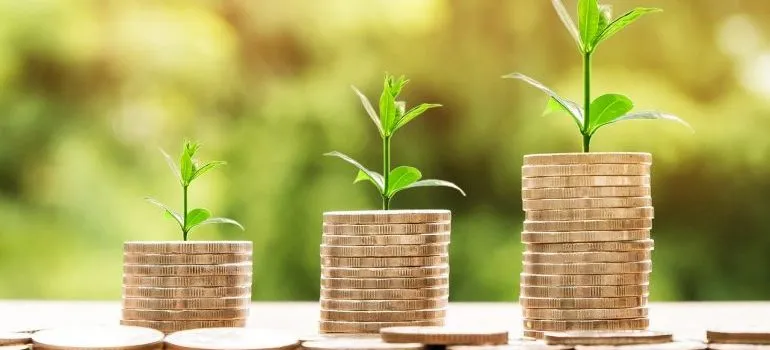 3. If you spot a contract with blank spaces, you have spotted fraudulent movers
Are you getting ready to sign a contract with residential movers? Then take a good look at the contract. Does it contain all the necessary pieces of information? If it does, good for you – feel free to put your signature on the dotted line. But in case you see any blank spaces, we suggest you refrain from signing the contract. After all, that's just the general rule, right? You should never sign a contract without knowing exactly what you are agreeing to.
So what could come out as a result of a blank moving contract? For starters, you could face extra fees and you would have no way of proving they weren't part of the original estimate. And that was just one of many things that could happen – so pay attention now before it becomes too late.
4. You can recognize fraudulent movers by over-the-phone estimates
Don't get us wrong – over-the-phone estimates are a great and quick way for people to get an idea about their upcoming moving costs. There's nothing wrong with it. However, there is something wrong with movers who refuse to come to your home for an on-site estimate. On-site estimates are a way to get an accurate quote, as well as go through the details of your move. And this goes for both residential and commercial moves – you always need to know how much money to set aside.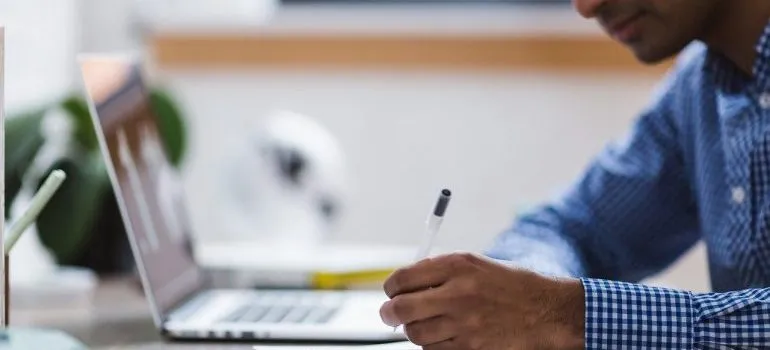 In case you are trying to schedule an on-site estimate but your movers keep refusing to meet you, it is our suggestion for you to keep looking for movers. Continue your research for the best moving companies that really want to provide you with quality moving services. They exist – you just have to find them.
5. Professionalism is a sign of a reputable company – and vice versa
Professionalism is a quality you will want to look for in your moving company of choice. The good news is that the lack of professionalism is usually easy to spot – we have no doubt you will be able to do it without any problems. And the thing with fraudulent movers is that they almost always lack that desired professionalism. If you are talking to them on the phone or in-person, pay attention to their tone and choice of words. Reputable movers will always be there to answer all of your questions and provide additional pieces of information. The same can't be said for fraudulent movers.
We hope you understand how important it is to learn how to recognize fraudulent movers. The unfortunate thing is that there are many less-than-reputable companies. But the good news is that we have given you the tools for recognizing them. So whether you are looking for long-distance, local, or interstate movers, make sure you remember these tools. They will definitely come in handy the next time you find yourself in need of movers.

Everyone from the packers to the movers were awesome! They were all very professional and showed up when they were supposed to. would definitely use them again.
Let our team put together a comprehensive moving plan for you. Complete our simple free quote form or contact us at 1-208-375-0961.