How to Prepare Your Home for Moving Day?
Moving to a new home sparks a blend of excitement and anticipation. But to transform that anticipation into confidence, it's essential to prepare your home for moving day timely and get every detail right. This guide walks you through each phase, from decluttering to safeguarding valuables, ensuring that by the time the movers in Boise area step in, your home is in prime shape for transition. With the correct measures in place, moving day can shift from overwhelming to effortlessly efficient!
Decluttering and Sorting
The cornerstone of any successful move begins with decluttering and sorting. Clearing out the excess makes packing more manageable and also has a profound effect on the efficiency and cost of the move. Here are the main advantages of decluttering before the move:
Simplified Packing: By decluttering first, you pack only what you need, making the entire process quicker and more efficient.
Cost Efficiency: Most moving services in Boise, ID, charge based on weight or volume. By reducing the number of items you move, you can cut down on moving expenses.
Fresh Start: Relocating gives you a unique opportunity to reevaluate your belongings. Letting go of the unnecessary provides a refreshing start in your new space.
It quickly becomes obvious that decluttering isn't just about tidiness. It's a strategic step to ensure your move is cost-effective and efficient and serves as a path to a fresher start in your new home.
Methods to determine what to keep, donate, sell, or discard
To tackle decluttering efficiently, a systematic approach is indispensable. Here are some tried and tested methods:
The Four-Box Method: To prepare your home for moving day, start by setting up four boxes labeled "Keep," "Donate," "Sell," and "Discard." Every item you review should find its place in one of these boxes. This ensures a purposeful sorting without the risk of overlooking any belonging.
The One-Year Rule: If an item hasn't been in use for over a year, perhaps it's time to reconsider its place in your home. This rule is particularly handy for clothes, gadgets, and kitchenware.
Quality Over Quantity: Focus on retaining items that serve a real purpose or carry sentimental value. It's always beneficial to surround yourself with items that add value to your life rather than just taking up space.
Once you've sorted your belongings, contacting local movers Boise residents recommended for the actual move can help ensure a smooth transition to your new residence. Their expertise ensures items, especially the bulky or fragile ones, are transported safely and efficiently.
Protecting Your Property
The hustle and bustle of moving day can expose your property to potential damage. Here's what a methodical approach to safeguarding your home involves.
Covering Floors
The constant traffic of moving boxes and furniture can scuff and dirty your floors. Use protective material or floor runners to guard against scratches, dirt, and scuff marks. Unless you're booking reputable moving services Boise ID relies on, ensuring your floors are well-protected can save both time and potential repair costs.
Shielding Wall Edges
The simple addition of corner guards can make a significant difference. They safeguard the edges of walls from dings and scratches that might be caused by larger furniture pieces being moved.
Removing Wall Decor
Taking down hanging items such as art, mirrors, and other wall decorations ahead of time prevents last-minute hassles and reduces the risk of damage. Once removed, such items should be wrapped securely and ready for transit. The expert handling from movers Caldwell ID ensures that these delicate pieces reach their destination safely.
Preparing and protecting your property is an essential precursor to moving. A few preventative measures can save you potential repair costs and ensure you hand over your old home in top condition or secure your security deposit if you're renting.
Prepare Your Home for Moving Day Room by Room
Efficiently preparing each room in your home before moving day can make a world of difference in how smoothly the entire process goes. Here are practical steps that not only save you time but also ensure a hassle-free move:
Emptying Appliances: If you plan to take appliances like refrigerators or ovens to your new home, make sure they are clean and free from any food remnants. This not only ensures they're ready for immediate use but also prevents unpleasant surprises during unpacking.
Clearing Countertops and Cabinets: In the kitchen and bathroom, decluttering is key to simplifying the packing and moving process. Securely close cabinet doors, and consider using simple child-proof locks to prevent them from swinging open during transit. Clear countertops of all loose items; this not only helps with packing but also reduces the risk of items getting lost or damaged during the move.
Designating Areas for Packed Boxes: After you finish packing each room, designate a specific area for the packed boxes, preferably in a central location. Clearly label each box with its intended room in the new house. This labeling system not only helps during the unpacking process but also assists your professional interstate movers Boise offers in placing boxes in the right rooms in your new home, saving you time and effort.
Effective room preparation involves practical steps that not only make the moving process smoother but also ensure that items are in their proper place when you arrive at your new home.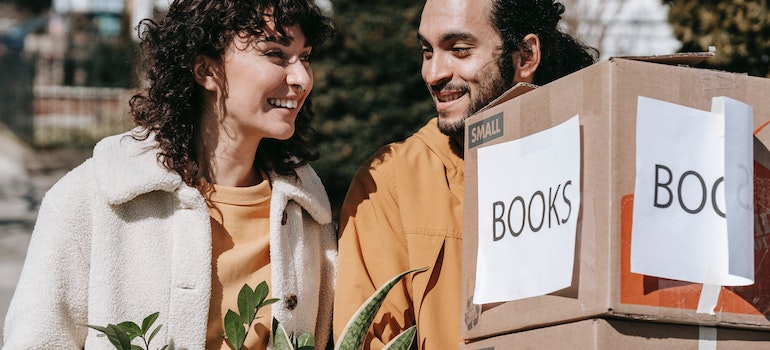 Setting Up for the Movers
Before the arrival of the moving team, it's crucial to have a few essential details in place for a smooth moving day:
Establishing Clear Pathways: To efficiently prepare your home for moving day, ensure that there are clear pathways throughout your home. It will allow the movers easy access to all rooms and spaces. Remove any obstacles or potential hazards that could slow down the moving process.
Pre-Labeling Rooms or Zones: Before the movers arrive, consider labeling each room or specific zone in your home. This can be as simple as attaching labels or signs to the doors or walls. Do so, and you'll make it easier for the movers to identify where each box or piece of furniture should go in your new home.
Determining a Safe and Accessible Spot for the Moving Truck: Think ahead about where the truck of your chosen

Boise long distance movers

will park. Ensure it has sufficient space to maneuver and is as close as possible to your home, facilitating an efficient move with your movers.
Allocating an Area for Non-Moving Items: Designate a specific area, away from the movers' path, for items that are not going with you. Whether you're disposing of these items, giving them away, or storing them, having them organized in one place prevents confusion on a moving day.
Briefing Household Members: Before the movers arrive, it's essential to discuss the moving day plan with all household members. Assign specific roles and responsibilities so everyone is clear about their tasks. This proactive approach ensures that the day runs smoothly.
Once you explore these tips, take the time to prepare your home and set the stage for a successful collaboration with your moving team. It helps minimize any potential delays or hiccups, ensuring your move progresses as smoothly as possible.
Special Considerations for Pets and Plants
Moving can be stressful not just for humans, but for your furry friends and green companions as well. Here are steps to ensure their safety and comfort, especially when working with movers in Kuna, Idaho:
Crafting a Secure Space for Pets: On a moving day, create a secure space within your home for your pets. This could be a room with their food, water, and toys where they can stay away from the commotion and potential hazards. Ensure that this designated area is clearly marked so the movers are aware.
Transportation Plan for Pets: If you're moving a long distance, consider how your pets will travel. Ensure they have proper carriers or crates and that they are safely secured in your vehicle. Make stops along the way for bathroom breaks and to check on their well-being.
Safely Moving Household Plants: Plants can be delicate to transport. Prune them a few weeks before the move and replant them in lightweight, unbreakable containers. During transit, ensure they are secured to prevent toppling. If you're moving over state borders, consider the climate and whether your plants are suitable for the new environment.
Taking these extra steps for your pets and plants ensures their safety and comfort during the move. It also helps maintain a smooth process when working with professionals. Local movers Kuna ID trusts to understand the importance of these considerations in your relocation.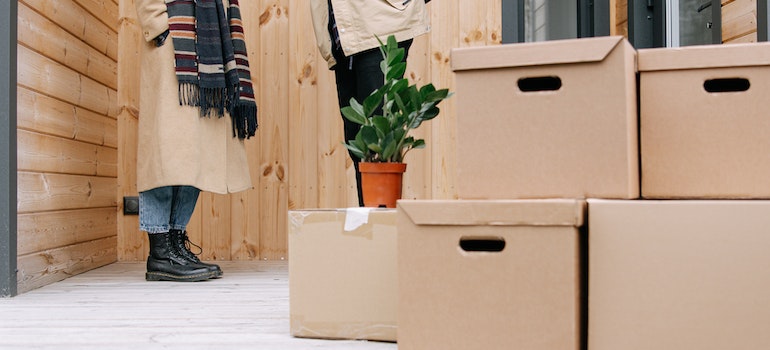 Setting Aside Essentials
While most of your belongings will be packed away, it's crucial to have essential items easily accessible for your first night in your new home:
Readying a "First Night" Box
Keeping Vital Documents and Valuables Close
Prepare Medications and Necessities
Pack a box with essentials like toiletries, a change of clothes, necessary medications, chargers, and important documents. Label it clearly so that it's the first box to be unloaded and opened upon arrival. Certain documents, like passports, birth certificates, and financial paperwork, should be kept with you rather than packed away. Ensure these items are in a secure folder or container. If you or your family members rely on specific medications or medical supplies, keep them in a clearly labeled container or bag that you'll have with you during the move.
Effective Communication with Movers
Clear communication with your moving company is vital to ensure everything goes according to plan:
Reconfirming Moving Day Specifics
Nominating a Primary Contact
Briefing Movers on Special Care Items
A day or two before the move, get in touch with your moving company to reconfirm all the details, including the time they will arrive, the payment method, and any special instructions. Designate one person as the primary contact for the movers. This individual should be available to answer any questions and provide guidance during the moving process. If you have fragile, valuable, or particularly important items, take a few moments to brief the movers on their special care requirements. This ensures everyone is on the same page regarding the handling of these items.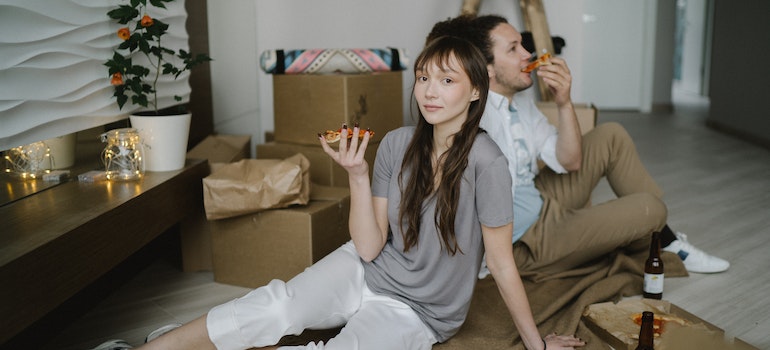 Final Walkthrough
Before you completely prepare your home for moving day and say your final goodbye to your old residence, there are critical steps to follow for a smooth departure. First, ensure every room is entirely empty. Go through each room, closet, and cabinet meticulously to confirm you forgot nothing. Don't forget to double-check often-overlooked spaces like attics, basements, and garages.
As a last measure before departing, remember to turn off all lights and securely lock up your old home. Make sure you tightly close and properly latch all windows, ensuring the safety and integrity of your former residence.
Lastly, it's essential to take additional security measures, particularly if your old home will be vacant for some time. Consider notifying a neighbor or installing timers on lights to create the illusion of an occupied house. These safety precautions help deter potential intruders and maintain the property's security during your absence.
Preparation: The Key to a Seamless Move
As you prepare your home for moving day, remember that only thorough preparation streamlines the process, minimizes stress, and safeguards your belongings. From decluttering to effectively communicating with your chosen moving professionals, each aspect contributes to a seamless experience. In other words, equipping yourself with the right tools and tips ensures that your belongings arrive safely, your new home welcomes you warmly, and your moving day remains a positive and memorable experience.

Everyone from the packers to the movers were awesome! They were all very professional and showed up when they were supposed to. would definitely use them again.
Let our team put together a comprehensive moving plan for you. Complete our simple free quote form or contact us at 1-208-375-0961.