How to pack and move a flat screen TV
It's almost impossible to imagine a family that doesn't own a flat screen TV. This item has become a staple in all households throughout the United States, which is why it is important to handle it properly during relocation. As one of the best Idaho moving companies, we here at Peasley Moving & Storage have the equipment and experience to help you relocate your precious item. In general, there are five steps that you need to follow in order to pack and move a flat screen TV with ease. They will provide your item with sufficient safety during relocation.
Step 1 – Finding the original packaging or a moving box
Best-case scenario – you would have saved the original box in which your TV came. After all, that box was designed with your TV's specifications in mind, which is why it will provide it with the highest level of safety. However, things aren't always perfect. You might not have given a thought to the prospect of ever using that box again and you threw it away. That's okay since all you need to do now is take a look at sturdy professional moving boxes Boise such as the ones our company offers.
Do your best to find a sturdy and high-quality moving box of the appropriate size. You shouldn't try to cram your TV in a box that is too small, and you definitely shouldn't pack your TV in a box that will be too big. Only a box of the appropriate size will be able to ensure your flat screen TV arrives from point A to point B without any damage.
Step 2 – Unplug all cords
Once you have the right container where you can safely put your TV in, it's time to get down to business. Of course, if you choose to hire a team of movers Meridian ID for your upcoming relocation, you might not even have to bother yourself with packing and moving a TV. However, we understand if you want to save time and money on the packing process. The first thing you need to do now is unplugging the cords and the accessories.
Once you take a look at the situation behind your TV, you are most likely going to see many different cords. Unplug the power cord, as well as all the other cables that you see there. But be careful – you should unplug the devices one at a time, making sure you label each cord. You can then tape the cords to their devices or simply store all of them in a Ziploc bag. Our commercial equipment movers will always pay special attention to cords and other easily lost items. We know how challenging it is to keep some items safe during relocation.
Step 3 – Protect your item when you pack and move a flat screen TV
Protective packing materials are essential for every relocation. The safety of your items certainly depends on many different things, such as the moving boxes that you use during your local relocation in Boise and the way you handle your items. Unfortunately, you might do everything right and by the book but it won't mean much unless you purchase the right amount and type of protective packing materials. When it comes to packing and moving a flat screen TV, you can't go wrong by purchasing moving blankets.
Moving blankets are big enough to be able to wrap around your television and they are gentle enough to provide the perfect level of protection for your item. Once you wrap the blanket around your TV, you just need to secure it with some tape. At this point, your flat screen TV is good to go.
Step 4 – Be careful how you place your TV inside the moving truck
By now, you already have gotten half the job out of the way. That's why you need to keep yourself on a good path by placing the TV inside the truck in the right way. When moving a TV, you always need to remember one thing – keep it in an upright position inside the truck. What you need to do is find some free space between two heavier items (such as a sofa and a mattress) and place your TV between them. This will make sure your TV stays in place and doesn't move around the truck that is in motion. To ensure ultimate safety for your TV during your Boise residential relocation, we suggest you keep it at an elevated position. This will prevent it from being crushed underneath heavier items.
Step 5 – Carefully unpack your flat screen TV
Now that your TV is at its new destination, you are very close to watching America's favorite TV shows. All that's left for you to do is unpack the TV in a safe way. For starters, we advise you to find another person who is going to help you carry out the TV in a safe way. Don't try to slide the box from the moving truck to the TV stand. That could be detrimental to your precious item. Instead, gently carry it to a TV stand of the right size and let it adjust to the room temperature before plugging it in. With that, you'll be done with the process of relocating a TV.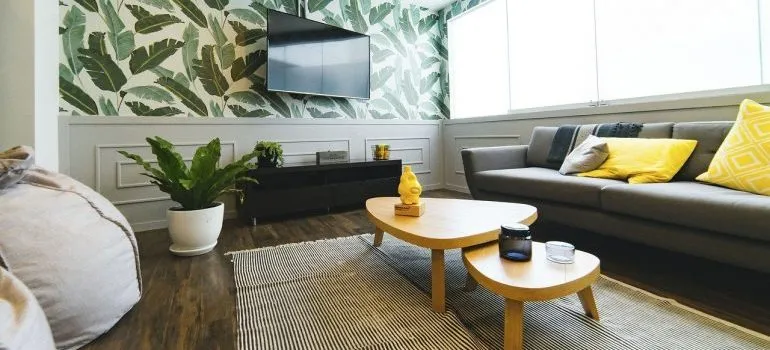 It's not so difficult to pack and move a flat screen TV when you have all the important information. Today, we gave you a glimpse of everything you need to do throughout this process. Quite possibly, the most important thing is to be careful and patient. This is one of your favorite and most expensive items that you can't live without. That alone makes your flat screen TV worthy of your attention.

Everyone from the packers to the movers were awesome! They were all very professional and showed up when they were supposed to. would definitely use them again.
Let our team put together a comprehensive moving plan for you. Complete our simple free quote form or contact us at 1-208-375-0961.