How to help your pets adapt to new surroundings
We're all well aware that moving to a new home induces some anxiety in most people. But the anxiety and stress can be overwhelming for pets who are unable to mentally prepare for such a change. You can explain what's happening to them and why they're losing the home they feel safe in. Moving or flying with your pets is already tough on its own. Add adapting to the new environment and you've got a lot to handle. Thankfully, there are many things you can do to make your pet feel more comfortable and relaxed in their new home. Check out these Boise moving and storage tips to learn how to help your pets adapt to new surroundings.
First things first, make sure you know what to expect in a worst-case scenario
Owners need to understand that pets may have a tough time adjusting to their new homes. This can lead to behavior issues that were not a problem in the past. Some pets will absorb their owners' emotions.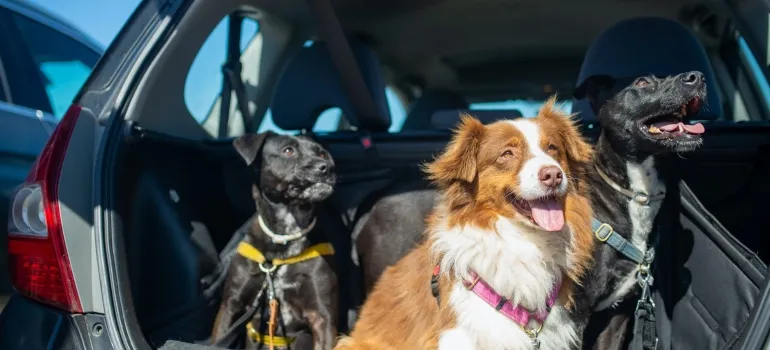 For example, if you feel anxious, they may be jumpy or extra-sensitive. This could lead to them becoming focused on establishing their "territory" in their new home. Or them wanting to stay under the bed and hide. In case dogs develop separation anxiety, it can lead to them barking continuously when left alone. Subsequently, this can cause problems with the new neighbors. In order to avoid these potential issues, our movers Star ID offer the following tip on how to make your pets feel more secure and happy in their new home.
Consistency is key to minimizing anxiety
Although these things can seem arbitrary to us, your pets' world revolves around events such as eating, playing, napping, and going to the bathroom. Hence, make sure to keep their routines intact. Local movers Boise recommend you keep your routine schedule for:
feeding
walks
playtime
cuddling
naps
bedtime
Install a doggy door in your new place if your dog is accustomed to using one. If your cat is used to outdoor time, make sure it continues after the move too. Your pets appreciate their routines.
To help your pets adapt to new surroundings seamlessly, get plenty of exercise
As we at interstate movers Boise like to say: tired pets are good pets. Don't get us wrong, we love them in any case, but it's true that animals with too much energy are prone to anxious behavior. Such as scratching furniture for cats or eating shoes and pillows for dogs. Be sure to give them ample playtime. This way you get two benefits:
they will associate their new home with having fun
they will be too tired to behave anxiously as well.
Spreading a familiar scent will help your pets adapt to new surroundings in no time
Sense of smell is the one most pets, dogs especially, rely heavily on to perceive the world. Keeping the things they smell as consistent as possible throughout the move will ease the transition for your pets. In the weeks leading up to the move, you could spray your home with certain fragrances. Afterward, do the same thing in your new home and your pets will feel right at home.
Alternatively, you could take your dog with you to the new place once you have access to it. This will allow your pets to slowly explore and adapt to the new environment before you start living there full-time. Leave some of their toys, or even some of your clothing in the new place so there is always a familiar scent.
Set up your pets' space as soon as you move in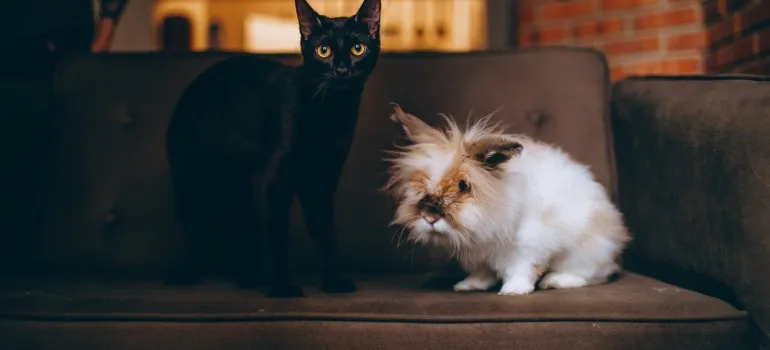 Laying out their bowls, blankets, toys, and bed in one corner is a great way to help your pets feel secure amongst the chaos of moving. Additionally, this isn't a good time to introduce new items even though you may be tempted to do exactly that. Instead, bring your pet's favorite bed, toys, food and water dishes, treats, etc. Put them in similar places as they were in your previous home as it will help your pet feel in control and at home more quickly.
Arm yourself with patience to help your pets adapt to new surroundings
It's likely your pets' behavior may change for a while. Especially if this is your first time traveling with pets.  They need time to get used to living in your new home, much like you do. When you first move in, limit your pet to one room in the house as introducing them slowly will keep them from getting caught up in the anxiety of unpacking. Once your pet is comfortable, introduce them to the rest of the house one room at a time. Allow your pets to take their time adjusting even if this process extends to multiple days. Let them choose whether they want to explore, or even hide for a while. Remember to be patient and kind to them above all.
Show your pets as much love as you can
Giving your pets the attention they are used to is a must. However, some extra loving won't hurt during this transitional period. In fact, it will go a long way in helping your pets feel at home in their new surroundings. If they show difficult behaviors it's due to discomfort with the change and a sense of not feeling in control. That doesn't mean the pet is bad and can't change. Nevertheless, if difficult behavior persists, get help from a professional trainer or veterinarian. And remember all the unconditional love and devotion they give you too.
We hope that these tips will help your pets (and you) adapt to new surroundings in no time.

Everyone from the packers to the movers were awesome! They were all very professional and showed up when they were supposed to. would definitely use them again.
Let our team put together a comprehensive moving plan for you. Complete our simple free quote form or contact us at 1-208-375-0961.