Guide to using short-term self storage when moving
If you have ever moved before, you know the whole process can get pretty complicated. Moving tasks are rarely simple and quick to finish. Things can get hectic when you are trying to relocate all of your possessions at once. Buying supplies, decluttering, and packing your entire home is a daunting project. If this sounds overwhelming to you, using short-term self storage when moving might be a good option. Putting your items into temporary storage could lift some weight off of your shoulders. If it is done correctly of course. Peasley Moving and Storage experts are here to share what you should keep in mind when choosing how to store your items.
When people think of moving, they rarely give much thought to storage. And even in the event they do, most think of long term storage. The images of dusty units full of random boxes of abandoned items, furniture, and clothing come to mind. However, this is not your only option. Long term storage has its advantages, but it might not be the right fit for your situation. Short term self storage is on the opposite end of the spectrum. It can be useful in many different scenarios.
What is short-term self storage?
As the name implies, it is a type of storage that you rent for a brief period of time. The exact definition will vary from provider to provider. In general, most agree that it is any amount of time shorter than three months. Alternatively, you can look at it as roughly one season. For an exact timeframe, contact movers Boise area residents recommend and they will give you all of the details.
You can find short term storage at regular self-storage facilities. Due to its nature, it is typically rented on a month-to-month basis. This type of storage is a good option when moving homes, but it can come in handy in other situations too. For example, someone could use it when they are remodeling their home. It is good for college students who need to store their things during the summer and avid travelers.
The advantages of using short-term self storage when moving
Now that we have gone over the basics of short term storage, it is time to look at the benefits. In case you are unsure if temporary storage is right for your relocation, going through the list below should help you decide.
More flexible than long term storage – Temporary storage

units Boise

offer far more flexibility than traditional storage options. Since you pay the rent on a monthly basis, it is easy to get your stuff out without much planning. Moving is a transitive period of your life when things are changing fast. Short term storage allows you to make quick decisions and adapt to the situation.
Your belongings are safe and secure – One of the biggest benefits of using self storage when moving is the peace of mind it provides. Moving homes gets hectic quickly, and knowing your valuable possessions are safe and sound will take some stress out of the equation. These days, facilities come with state-of-the-art security and temeprature controlled rooms. Your belongings will return to you exactly as you have left them.
It could help you sell your home – Have you ever wondered how sellers make their property look perfect and clutter-free at viewings? The secret is temporary storage. Having a clean, tidy interior is extremely important when you are trying to sell your home quickly. Making a good first impression is always the best move. A well-decorated but decluttered property lets the buyer envision themselves at home.
If you still feel like you do not have all of the necessary information, some of the best local movers Boise has to offer will be more than happy to help you make the right choice.
How to choose the best self storage option for your needs
When you are researching which option is the best fit, there are some considerations to keep in mind. Using temporary storage during relocation will require a bit of planning to ensure everything goes smoothly.
Decide what size of unit you need
Modern storage facilities offer a range of different-sized units. You will need to have a rough idea of how much space you require. This is one of the most important factors to consider, as it can affect the price as well. In the planning stages, decide what items are essential. Anything you use in your daily life is better to keep on hand. If you are moving across the country, consider making an essential moving box. Additionally, take into account the size and shape of your packing supplies. Moving boxes can add a lot of bulk but they also make organizing easier. Finally, consider asking the experts. Long distance movers Boise residents recommend can assist you in finding a suitable solution. It can be difficult to figure out what unit size will be the best, especially if you never used such services before.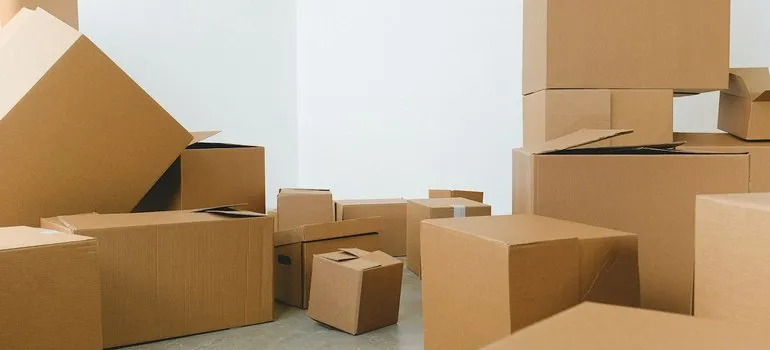 Consider the costs of using short-term self storage during a move
According to recent stats, the average rent for a storage unit in the U.S is around $100 per month. However, the true cost of storing your items in a unit will be different. It will depend on your exact needs and requirements. Unit size, number of items, type of storage unit, and exact duration all have an effect on the final price. Moreover, your location might determine the price too. Cities and urban areas often have a higher demand for storage units. Any additional services and extras will increase the price as well. Another factor to consider is supplies. When you first move your items to a unit, you will have to purchase Boise packing supplies so that your items stay in mint condition. For short term storage, all you will need is a set of packing boxes and some covers. Additionally, you can also get padding for fragile items.
Location and ease of access
When it comes to choosing the location of your storage unit, it all comes down to how often you need to access your belongings. If you do not plan on visiting the unit often you can opt for an option that is farther away. This could save you some money, as urban areas usually have a higher demand which leads to high prices. However, if you know you will have to access your items regularly pick a location that is closer to you. Being able to quickly drop off your things or pick them up is very convenient when you are on a tight schedule. Additionally, look for facilities with good parking and enough space for loading and unloading. For transport and loading of bulkier furniture or other heavy items, consider hiring piano movers Boise locals recommend. They will navigate the task more easily than you could on your own.
Unit security cannot be understated
No matter how long you plan to store your items, make sure you choose a reputable facility that meets all industry standards. You want to be certain they are doing everything they can to keep your belongings safe. Common risks that come with unsafe facilities include:
water damage
mold
pests
theft
fire
The best way to reduce these risks and protect your things is to do enough research. Do not simply settle for the closest facility you can find. Safety should be your main priority, not convenience. Look for a facility that is well lit inside and outside. A fenced building with restricted access to just employees and tenants is ideal. Unique access codes at gates are another important feature. Moreover, round the clock digital surveillance is a must. In order to protect your belongings from the environment pick a company that offers temperature-controlled storage. It is incredible how fast mold and mildew can appear in a humid environment. Lastly, if the facility does not look well maintained, skip it. It is a sign of poor management and negligent employees. Ask yourself if that are the people you can trust with your belongings.
Site amenities and special services can make or break your decision
While more amenities and extras are not totally necessary, they can offer greater peace of mind. It is worth it to ask and see what the facility has to offer. If you plan to store art, wine, documents, or photographs you will want a storage facility that has temperature control. Sudden changes in temperature should be avoided at all costs. Temperature-controlled units are commonplace these days, but keeping humidity in check is just as important. Even a brief period of high humidity can damage photos, art, and electronics.
During a move, you might also want to store your car until you settle into your new home. Vehicle storage can really come in handy if you are relocating between big cities with little to no parking space. Be sure to ask the staff beforehand if they have a unit that could accommodate vehicles. Additionally, some facilities offer unit customization. They can install shelves, lighting, and outlets according to your instructions.
Ways you can use temporary storage to simplify a move
All types of moves have one thing in common – a million of different tasks that need doing. Stress levels are high when you have a ton of things to do but not enough time. Temporary storage can actually help you complete tasks on time. Sure, it will require a bit more preparation but having an easy moving day is well worth it. For example, instead of rushing to pack all of your belongings at once, you could pack your home at your own pace. Temporary storage will allow you to start the packing process weeks or even months in advance. You can slowly phase things out of your home till the moving date comes. Furthermore, it will make settling into your new home easier. You can unpack the necessities and slowly add nonessential items. With fewer boxes and more space, setting up will be a walk in the park.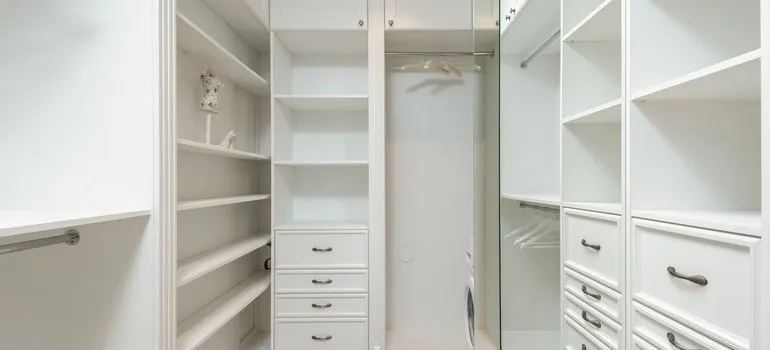 Self storage can also help you declutter your home before moving. Once again, you can tackle this big task in smaller steps and slowly get rid of items you do not need. By doing so, you will be able to save money on moving services. Since the final estimate depends on the number of items you move, temporarily putting things into storage can really cut down the price. Moreover, doing renovations is a lot easier without clutter getting in your way. Many people choose to do reno right before or after a move, but it can get quite messy. With some of your belongings in storage, any work will be much easier to complete. And you will not have to worry about damaged furniture or keeping valuables safe.
Closing thoughts
In the end, using short-term self storage when moving can greatly improve your moving experience. Temporarily storing your belongings in a safe place has its benefits and could potentially alleviate a lot of your moving day worries. It could even help you sell your home quicker and renovations will be a lot easier without clutter around. Whether it is the right choice for you will depend on your budget, location, number, and type of items you need to store. It can seem like using temporary storage will just make your move more complicated, but as long as you do enough planning and research everything should go smoothly.

Everyone from the packers to the movers were awesome! They were all very professional and showed up when they were supposed to. would definitely use them again.
Let our team put together a comprehensive moving plan for you. Complete our simple free quote form or contact us at 1-208-375-0961.