Guide to relocating your kitchen
The kitchen is probably the most difficult room to move when you are moving your home. With all of the small objects, drawers, cupboards, and appliances it is unlike any other room in the house. On top of that, it contains food and many fragile items. You also cannot ignore the importance of a kitchen. It is the center of life in a home. A place for gathering, celebrating, and socializing. Without a functioning kitchen, your daily life cannot go back to normal. Ensuring everything goes smoothly during the relocation is key. In this guide, Peasley Moving & Storage give their best tips for relocating your kitchen.
It all starts with having appropriate supplies
To move a family-sized kitchen, you will need a bunch of different boxes. These can be purchased at various retailers, or directly from your movers. Sturdy moving boxes ensure your items will not break during transport. Quality is key, you do not want flimsy cardboard. Moving boxes Boise movers recommend come in a variety of different sizes and types. Buying just one size is not enough, while the amount depends on the size of your kitchen.
Small boxes are best for packing heavier or fragile items  – they will keep breakables safe and prevent too much movement
Medium boxes are best for small appliances, pots, pans, and silverware
Large boxes are good for lightweight, plastic items like dishracks, bowls, cups, and containers
Aside from boxes, you will also need other supplies. Styrofoam and bubble wrap to protect your breakables – although newspaper can work in a pinch. Opt for moving blankets for your most precious items. If you are unsure how to pack something safely, consider contacting moving companies Nampa for assistance. Another must-have is packing tape and labels. Make sure to buy enough tape. You will need it for sealing boxes and bubble wrap. Moving a kitchen can quickly turn chaotic, and labels will keep you organized. And do not forget about markers! You can use them to write instructions on the boxes.
The first step of relocating your kitchen is organizing
Before moving day, there will be a lot of preparations to do. The most crucial one is selecting what you are taking with you. Moving house is a great opportunity to get rid of clutter and unused items. There are surely a few forgotten pots and pans hiding in your cabinets. Who has not bought kitchenware they never ended up using? To make the process easier for yourself you can set up some basic rules. For example, items you have not used in over a year can go. Especially if they are not practical to transport, do not fit your new kitchen, etc. On top of that, consider decluttering old appliances. If they are still in good condition, consider donating them or having a garage sale. However, temperature-controlled storage Boise is a good option for any you cannot bear to get rid of.
Sort out food before relocating your kitchen
When it comes to transporting food, keep it simple. Do not attempt to transport perishables even when moving locally. Use up what you can and consider giving the rest away. Food banks, shelters, and similar places are always in need of fresh produce. Canned items, bottles of oil, and packaged foods can technically be transported to your new home, but doing so can be tricky. Weigh your options and see if it is worth it to you.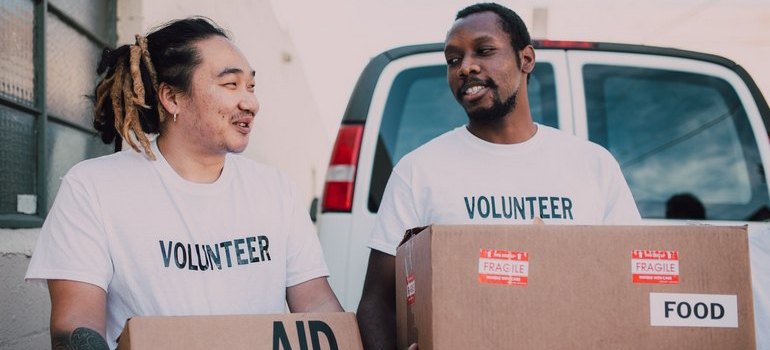 Build an essential kitchen moving box
The contents of an essential kitchen box will vary for every household, but it should have two parts:
items you will need right up until moving day
items you will need first in your new home
Both categories include items you cannot go without. However, the key here is packing only the essentials. Enough stuff for the last two days in your old home and the first day in the new kitchen. A few pots and pans, dishes for each person, cups, cutlery, and towels. Additionally, you can pack basics like soap and cleaner as well as some dishcloths. For appliances, pick one or two you cannot live without. A coffee maker and a toaster are good choices. Resist the urge to overpack, because that defeats the purpose of having an essential box. The whole point is to have quick and easy access to a small selection of important items.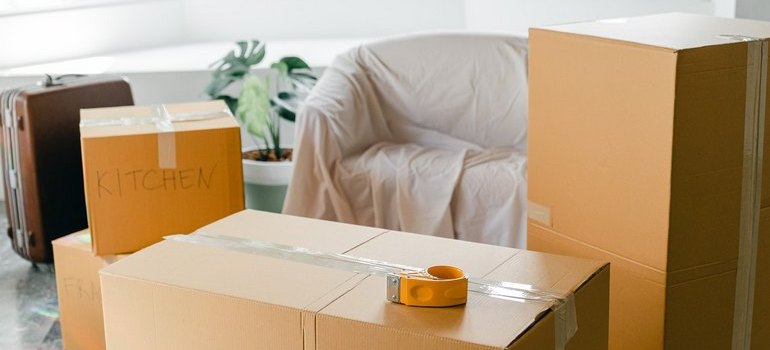 Pack the items you will not need before moving day
These are all of the items that are left after the last two steps. This category will include stuff you use, but not as often as your essentials. Small appliances like blenders, food processors, mixers, air fryers, and so on. All your extra dishes, towels, storage containers, and equipment fit here as well. Additionally, this is also the time to pack special occasion items such as cake platters, baking sheets, ice cream makers, condiment dishes, spices, etc. It is important to pack this category well before the move. The days leading up to a move are always hectic and last-minute packing is a disaster waiting to happen.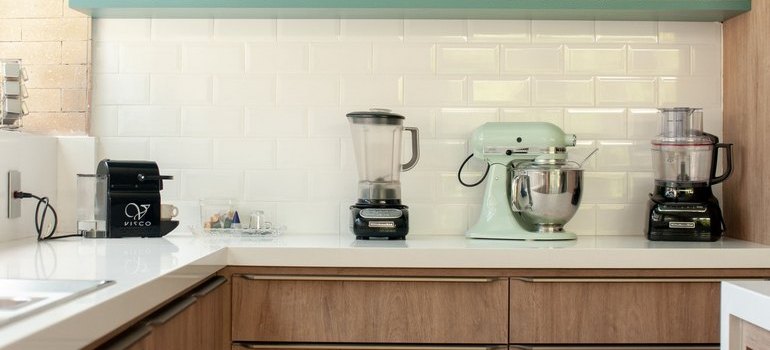 Relocating your kitchen successfully is one of the trickiest parts of moving. With so many items of various sizes and shapes, it can quickly turn into a nightmare. Hopefully, our guide has given you some ideas on how to go about it. The most important thing is to stay organized, and focused and give yourself enough time. Proper planning is essential in any relocation. However, if you find the amount of work overwhelming considers hiring professional help. Expert movers and packers do this kind of thing every day. For them packing a kitchen will be a piece of cake. Whichever route you choose good luck and happy moving!

Everyone from the packers to the movers were awesome! They were all very professional and showed up when they were supposed to. would definitely use them again.
Let our team put together a comprehensive moving plan for you. Complete our simple free quote form or contact us at 1-208-375-0961.