Guide to packing rugs and carpets for moving
Rugs and carpets are important parts of your home. They add to the looks and warmth and make the place feel more cozy and homey. Yet, you rarely give them too much thought once they're in place. For the most parts, you know they… exist. And that's about it. So, it's kind of easy to overlook them or, even, forget about them completely up until the last minute of packing. This is a common mistake that a lot of people make. Fortunately, though, Peasley Moving & Storage ID is here to help you remedy that. With this guide you'll be packing rugs and carpets for moving like a pro, thus avoiding damage and making sure they endure to beautify your new home.
Propper preparation is the key to safety
Packing rugs and carpets for moving can be super easy. However, it's more than just "roll 'em up, toss 'em in a truck." Improper preparation and handling is a surefire way to damage your rugs and carpets. Considering how some of them can be quite expensive, you want to avoid this at all costs. Therefore, the first order of business is to procure tools and materials necessary to see the job through safely, from start to finish. Fortunately, this doesn't take much.
Tools and materials
Rugs and carpets may just be some of the least demanding household items. To properly pack them you'll need:
A pair of scissors, a packing knife, or an x-acto knife – you don't need all three. Still, make sure you have at least one, to ensure proper and safe packing;
Packing tape – necessary for securing the wrapping;
Hand-held tape dispenser – not essential, but will make your job a whole lot easier;
String or rope – again, not essential, but can be a great help;
Wrap – essential for protecting your rugs and carpets. The best choice here is Kraft paper pads, as they're the most enduring. Alternatively, you can go with plastic or bubble wrap.
And, that's it! As you can see, rugs and carpets aren't as demanding as some other household items.
A bit of help is always welcome
Rugs and carpets aren't difficult to pack. Still, it's always good to have some assistance. Smaller rugs won't give you any trouble. However, large area rugs can sometimes be a bit finicky and cause quite a bit of frustration. So, bribe a friend or two with some pizza and you'll get your rugs and carpets prepped and ready to go in no time. Cookies work, too!
Clean your rugs and carpets before packing them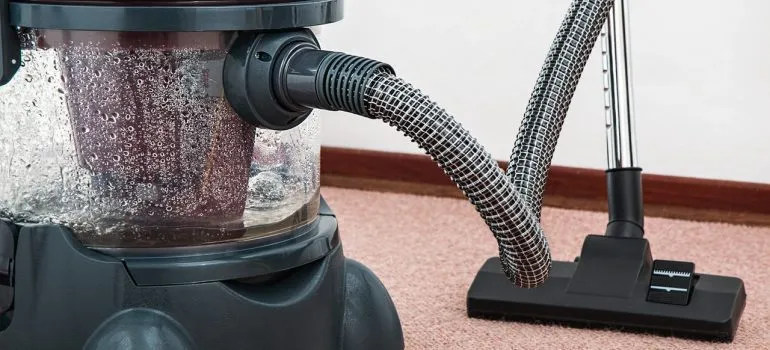 You want your floor coverings ready to beautify your new home the moment they're off the moving truck. So, vacuum your rugs and carpets thoroughly, or have professionals clean them for you. If you are going to place your rugs or carpet in storage, it is extremely important to have them professionally cleaned first.  Otherwise larvae may hatch and destroy part or all of your floor covering. If you have a backyard and somewhere to hang them, you can also give your rugs and carpets a good beating. It's a great way to get the dust and dirt out of them. And, also, to release some pent-up rage.
Packing rugs and carpets for moving – step by step
With the preparation stage out of the way, you can move on to packing. The procedure will be the same, whether you're moving house, or placing them into the inventory storage along with other office equipment.
#1 – Flip the rugs or carpets over
When packing rugs and carpets for moving, you want to flip them over first, so that the backside is facing up. This might seem counterintuitive, but – it's not. The backside of a rug is quite fragile. Rolling them up, with the backside facing outward puts an additional strain on it, which can cause it to crack or tear. Therefore – flipping.
#2 – Roll 'em up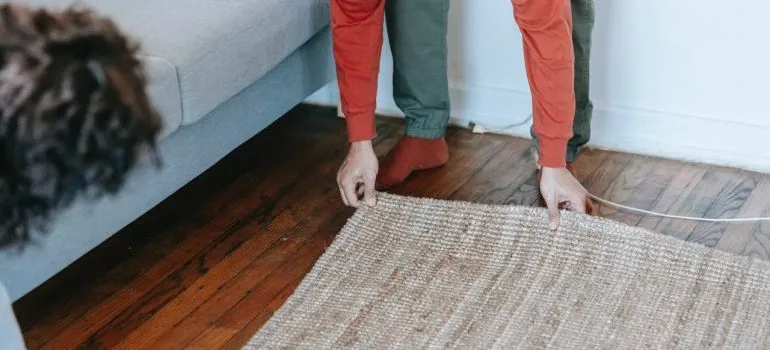 With a rug on its face, it's time to roll. It's great to have some assistance during this step, especially if dealing with large rugs or carpets.
So, roll the rug, starting from the short side. Make sure everything is neat and tight. Pay special attention to the corners. They sometimes have a mind of their own and love to fold in the opposite direction. This can lead to damage and it takes ages to straighten them up after unfolding.
Most importantly: Do not, and we repeat do not fold the rug. If you do, the backing will crack, and then your rug is ruined.
#3 – Wrapping is the most important part of the process
With a rug all wrapped up, it's time to secure it in place.
If you have string or rope, tie the rug up. Secure the middle first and then the edges. No need to be excessive here. Three pieces of string are more than enough to keep everything in place.
Lay down several layers of Kraft paper (or, any other wrap you chose) at the edge of the rug. Make sure you leave about 5" – 6" sticking out, as you'll fold that inward and into the rug.
Secure the wrapping in place with packing tape. Make sure none of the tape touches the rug itself, as it can leave a sticky residue that is a pain to clean.
Repeat steps 2 and 3 on the other end.
You don't have to wrap the entire rug. Protecting the edges is important, as they are the ones most vulnerable.
#4 – Placement matters
Whether you're placing the rug onto the moving truck, or into your self storage Boise, make sure you keep it in the upright position. This way, you'll minimize the risk of damage and maximize the usable space in the truck or storage. However, if you must place the rug down horizontally, do not stack other items on top of it. Excessive weight will crush your rug and ruin it.
Go with the pro's and you won't go wrong
There we have it! As you can see, packing rugs and carpets for moving isn't a daunting task. However, if you're the least bit unsure, or don't have the time to do it yourself, do not hesitate to contact professional movers. It's always better to leave it up to them to ensure maximum safety of your rugs and carpets than to do it in a rush.

Everyone from the packers to the movers were awesome! They were all very professional and showed up when they were supposed to. would definitely use them again.
Let our team put together a comprehensive moving plan for you. Complete our simple free quote form or contact us at 1-208-375-0961.