Guide for storing and organizing camping gear
Storing and organizing camping gear might seem complicated, but it is really not that hard to do when you know what you're doing. And that is exactly why Peasley Moving & Storage Idaho came forth with this guide. Apart from providing exceptional moving services as well as storage options, we also like to advise all those in need on the proper ways of storing and handling their personal belongings. And this right here is our guide for storing and organizing camping gear.
Before we delve into the methods, we will advise that you start this process by getting lots of totes. Find the ones that are sturdy enough to haul around to the campsite. It would also be a huge plus if they were waterproof. This will ensure that should your gear stay overnight in the rain outside, you will not be greeted with a headache in the morning. What is also great about totes is that they are stackable. This will ensure that you store them with great ease after use, be it in storage units Boise, or your home.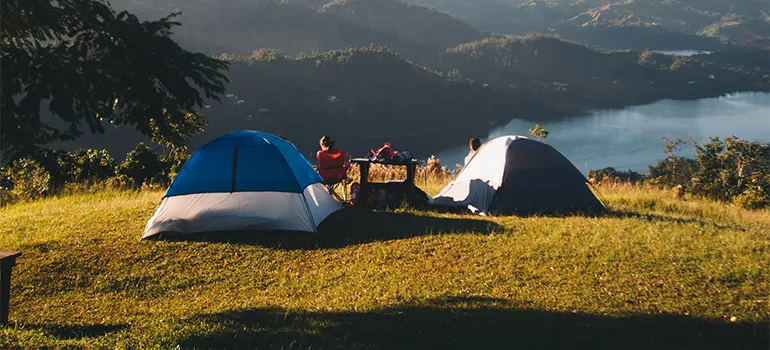 Guide for storing and organizing camping gear that you will find easy to follow
Apart from being your trustworthy local movers in Boise, we know a thing or two about storing goods. And by a thing or two – we refer to basically everything there is to know. In all seriousness, it is important that you store and organize your camping gear during the off-season, so as to be able to use it when the camping time comes. One of the first things you ought to do is clean your gear.
How to clean and store your tent
You would be happy to learn that most tents clean up rather nicely with a damp cloth and mild soap. However, if you are dealing with a case of an extra-dirty trip, you need a different approach. See that you set up your tent when you arrive home, and hose it down to get any excess dirt out of it. And, if you have been camping by the ocean, see that you wipe down tent poles so as to remove any salt, thus preventing any damage.
We highly recommend that you keep your tents stored loosely in an open area. You can compromise on this by keeping my tent in a big plastic tote without the lid. This way, not only will you avoid packing the tent too tightly, but also ensure it fits nicely in your self storage Boise.
Now, before you pack your tent away for good, see that it is completely dry. Failing to do this will l invite mildew to grow all over it and that is the last thing you want to happen. It would also be wise to keep it stored in a cool, dry place. Swings in temperature can cause the waterproof coating to degrade.
How to air out hiking gear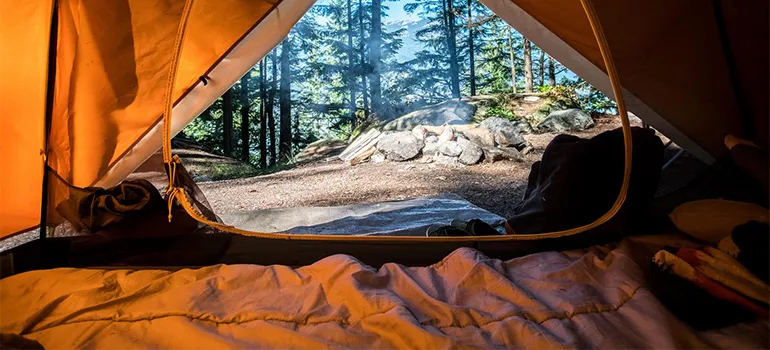 If your camping trip includes hiking, it would be rather intelligent to air out any gear upon your arrival home. Take the insoles out of your boots and brush the dirt off before putting them away for the season. If you can, try to store boots and backpacking gear on a shelf to avoid trapping in any moisture.
It is important to keep an inventory
You really want to get enough storage bins to hold all of your camping equipment. Use your biggest totes for large outdoor gear. These include things like your tents, hammocks, chairs, and so on. You can use smaller totes for gear storage, including stoves, water filters, headlamps, first aid kits, etc. See that you keep an inventory list on your phone that contains all that goes in each bin.
Or, better yet, you can laminate the list and stick it to the inside of the lid. This way, whenever you are heading out on your next trip, you can easily load all of your necessary totes into your vehicle and be on your way knowing everything you need is there. And, when you are done camping, just make sure that everything is clean and dry before stashing your items away again. The list that you made will also help you place the right items in the right bin.
Consider using space bags
While these might seem redundant for other things, space bags will do wonders for your sleeping bags and foam sleeping pads you use for camping. What is also great about them is that they fit better in the totes. For those of you scratching your head, space bags are plastic sealable bags that you can suck the air out of with a vacuum.
Now, there is a lot of debate on whether storing your sleeping bag compressed will break down the fibers in the bag or not. If you are more of a casual camper equipped with not so much sophisticated gear, space bags will probably be a good idea.
How to take care of high-end sleeping bags and gear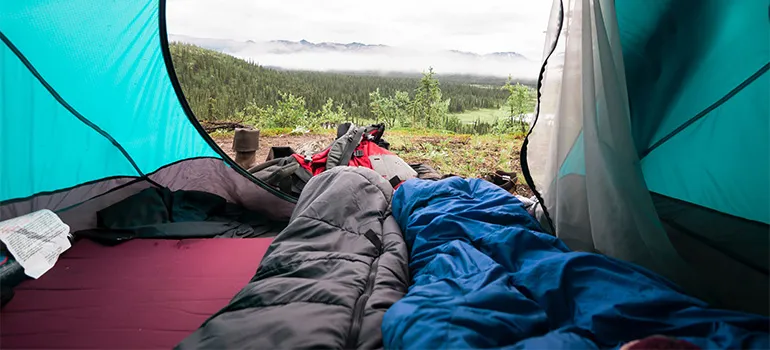 For those of you who have splurged on a higher-end sleeping bag, storing it on a hanger in your closet may be a better option. And, a word to the wise, do not put your sleeping bag into the washer after spending a weekend in the woods. It would be better that you only wash them when your sleeping bag gets dirty. You see, washing them too much can cause unnecessary wear.
Consider opting for professional storage
Storage units from professional moving companies can be perfect for camping gear. Especially if you are short on storage space at your home. Just remember that temperature-control is your best option as extreme temperatures can damage high-end gear over time. And that is pretty much it. Now you know the most important things about storing and organizing camping gear.

Everyone from the packers to the movers were awesome! They were all very professional and showed up when they were supposed to. would definitely use them again.
Let our team put together a comprehensive moving plan for you. Complete our simple free quote form or contact us at 1-208-375-0961.