Guide for moving from Tucson to Boise
If you are currently settled in Tucson but are thinking about moving to Boise, it's safe to assume that something has made you consider this option. Whether you are trying to join your significant other, find a better job, or simply start out a new life, there's much to know about the process of moving from Tucson to Boise. After all, venturing on an interstate move is very exciting, but also a bit intimidating. Don't worry – as some of the most reliable movers Boise has to offer, we will be more than happy to help you survive this process. Our job will be to familiarize you with some key differences between Boise and Tucson, as well as remind you about some very important moving tasks.
What will change after moving from Tucson to Boise?
The answer is simple – pretty much your whole life. Life in a different state is completely different than what you are used to. So once your interstate movers Idaho drop you off at your new home, you need to be prepared for the changes that are to come. Generally speaking, both Tucson and Boise are amazing cities with plenty of things to love about them. However, these two cities are very different in some aspects. Familiarizing you with all of them would be too difficult and time-consuming. That's why we are going to provide you with a breakdown of a few key differences to expect after moving to Boise from Tucson.
By living in Boise, you are 20.3% more likely to be married.
Boise's unemployment rate is 3.6% while Tucson's unemployment rate is 7.4%.
Tucson's median household income is 27% less than it is in Boise.
We know that this isn't nearly enough data for you to be able to decide whether you want to move to Boise from Tucson. However, we think it's enough to give you an idea of what type of life awaits you in Boise.
The similarities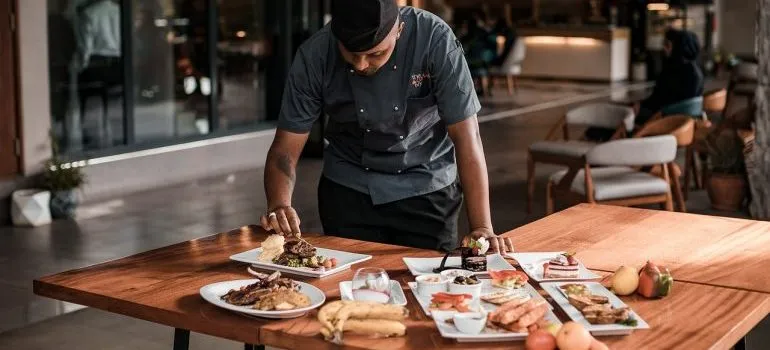 As two large and impressive cities, Tucson and Boise have a few things in common. For example, you'll never be bored no matter which of the two cities you live in. Both Tucson and Boise have plenty of restaurants, coffee shops, malls, boutiques, bars – pretty much everything you need for a fun and fulfilling life. That's the good thing about going through this change – you won't have to get adjusted to small-town living since you are coming from a populous place. Of course, whether this is a positive thing depends on your desires. If you wish to dial it down and move to a smaller place, then life in Boise might not be the right move.
Relocation-related tasks to take care of
As reliable residential movers in Boise, we know how much there is to do after deciding to move your household to a different city. The good news is that everyone survives their relocation, some of them with more success and some with quite a few troubles. If you want to have nothing but success with this process, we suggest you take care of some essential moving tasks early on.
Get all the help you need when relocating to Boise from Tucson
The very first thing you ought to do is ensure that you have the right team of people by your side. Considering the fact that an interstate move is no easy task, you want to book your movers early on. Do your research and find a relocation professional that offers all the moving services that you need. For example, you won't hire a company that doesn't offer a special team of piano movers Boise if you have to relocate a piano.
If possible, try to find word-of-mouth recommendations. It would be great if you could find someone who has a positive experience with a certain moving company. But if you can't find anyone who can recommend a mover, you'll have to do your own online research. Just be careful – not everything that you read on the Internet is true or honest.
Think about renting a storage solution
Many people realize that they are going to need a Tucson or a Boise storage solution only when they stumble upon a problem. By that time, it's usually too late to rent a unit without going through a lot of stress and commotion. The truth is that a storage unit will be a great thing to have during your upcoming relocation. It can serve as the place where you can keep all of your items until you settle into your new home and it can be a place that can serve as your safety net. That's why it's a good idea to look into short-term storage. It won't set you back a lot of money but it will provide you with some peace of mind.
Get insurance when moving from Tucson to Boise
The road between Tucson and Boise is a long one. There's simply too much room for error which is why you can't gamble with your precious items. Looking into different insurance options and coverages is the best way to buy yourself some peace. When you have a suitable policy in place, every damage that occurs during the transport will be reimbursed. Of course, the amount of reimbursement will depend on the money you spend on your policy. Once again, you shouldn't think of this as a bad investment. If it serves as protection in the case of an unforeseen circumstance, then it's worth every penny.
In the end, it's very likely that you are going to experience some stress when moving from Tucson to Boise, even if you do everything right. You just have to remind yourself that it's completely normal. This is a very difficult and at times terrifying process that you are going through and you will need some time to adapt to the changes. Good times are ahead.

Everyone from the packers to the movers were awesome! They were all very professional and showed up when they were supposed to. would definitely use them again.
Let our team put together a comprehensive moving plan for you. Complete our simple free quote form or contact us at 1-208-375-0961.