Discovering the Unique Treasure Valley Towns
Treasure Valley, located in the heart of Idaho, is known for its unique towns, each with a distinctive history, lifestyle, and landscape. As the region grows in popularity, moving services like Peasley Moving & Storage ID have facilitated the relocation of many families, making the transition to these towns smooth and efficient. So, allow us to provide an in-depth view of what makes these unique Treasure Valley towns appealing for both living and visiting.
Brief Description of Treasure Valley
The Treasure Valley in Idaho is known for its diverse communities and beautiful landscapes. It stretches beyond Boise, connecting various towns and cities, each with its own unique character:
Meridian
Nampa
Caldwell
Eagle
Kuna
Star
From bustling urban neighborhoods to quiet country towns, the region offers a wide range of residential options. Whether you're drawn to city living or a more rural setting, Treasure Valley provides opportunities for individuals and families to find their ideal home. And we're about to explore them in detail.
Exploring Meridian
Making your way through the Treasure Valley, you'll encounter Meridian, a city that pulsates with life, ambition, and growth. With the invaluable support of moving companies Meridian has to offer, families and individuals are discovering the immense appeal of this thriving town. Striking the perfect balance between urban vitality and suburban serenity, Meridian offers a comprehensive lifestyle. Its robust downtown district bustles with energy, while the tranquil residential areas provide a peaceful haven.
But it's not just the physical attributes that make Meridian so appealing. The town's spirit, its friendly community, and the warm welcome it extends to every newcomer truly set it apart. These attributes, coupled with a diverse range of recreational and leisure opportunities, have made Meridian an irresistible draw for those seeking an enriching living experience in the heart of the Treasure Valley.
High Quality of Life – Schools, Safety, Public Services
At the heart of Meridian's appeal lies its dedication to ensuring a high quality of life for all residents. The town boasts an excellent education system, with schools that inspire students to strive for excellence and provide them with the tools to succeed. These schools nurture not just academic prowess but also foster creative, athletic, and social skills.
Coupled with the safety that the community ensures, this creates a secure and conducive environment for families. Meridian's robust public services reinforce this sense of security. From top-tier healthcare facilities to efficient public utilities and well-maintained infrastructure, the town's commitment to the well-being of its residents is evident.
Proximity to Boise, Offering Big City Amenities
Meridian's geographical advantage further enhances its appeal. Its close proximity to Boise, Idaho's bustling capital, means residents have easy access to all the amenities of a metropolitan city. From high-end shopping centers to diverse culinary destinations and an array of entertainment venues, everything is within a convenient distance. Yet, despite its closeness to the city, Meridian retains its unique charm and peaceful ambiance. This delicate balance offers residents the best of both worlds – the vibrancy of city life and the tranquility of the suburbs.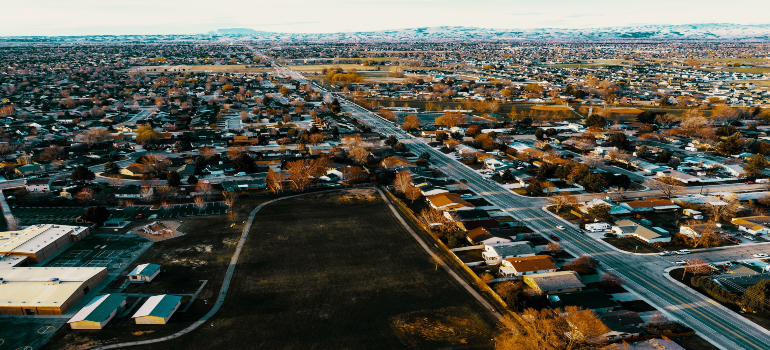 Rapid Economic Growth and Job Opportunities
Meridian's thriving economy is a testament to its growth and prosperity. The city has become a magnet for businesses of all sizes, from start-ups to established corporations. This economic growth has resulted in a boom in job opportunities across various sectors. The town's strategic location, business-friendly policies, and robust infrastructure have been instrumental in attracting and nurturing businesses. For professionals and job seekers, this means a wealth of opportunities, making Meridian not just a great place to live but also an excellent place to grow a career.
Nampa: A Hidden Gem Among Unique Treasure Valley Towns

Nampa, located in Idaho's Treasure Valley, stands out for its diverse offerings. With a thriving arts scene, residents enjoy regular cultural events and exhibitions. The town's recreational facilities and nearby Lake Lowell provide ample opportunities for outdoor activities. The historic downtown offers a mix of shopping, dining, and entertainment options, contributing to a vibrant community life. These features, along with a sense of close-knit community, make Nampa a compelling option for those considering relocating to the area.
Vibrant Arts and Cultural Scene – Theaters, Festivals, Historic Downtown
Nampa's cultural vibrancy comes to life through its thriving arts scene. The city boasts several theaters, hosting a variety of performances that captivate audiences. The local festivals, celebrated with fervor, add to the town's cultural richness, highlighting the unity and harmony of the community. The historic downtown, the heart of the city, teems with character and charm. Restored historic buildings stand as silent narrators of the town's history while housing a bustling range of businesses that cater to modern needs.
Access to Outdoor Recreation – Parks, Trails, Nearby Lake Lowell
Nampa is a paradise for those who love outdoor activities. The city is home to a network of parks and trails that provide a refreshing escape from urban life. Whether you're into biking, hiking, or simply a leisurely walk, these trails offer the perfect setting. In close proximity is Lake Lowell, a beloved destination that invites residents and visitors to enjoy a myriad of water-based activities or simply unwind by the serene waterside. This blend of urban charm and outdoor splendor makes Nampa a unique town in the Treasure Valley.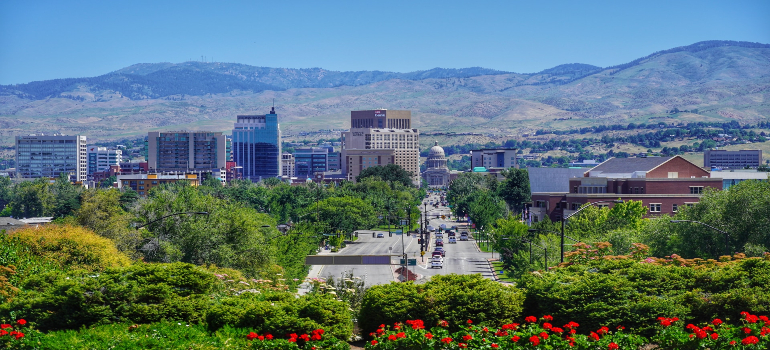 Affordable Housing Compared to Other Nearby Cities
One of Nampa's most attractive features is its affordability. The town offers a variety of housing options, from charming historic homes to new residential developments, all at prices more affordable than many other cities in the area. This affordability, coupled with the high quality of life, makes Nampa an appealing option for those looking to move to the Treasure Valley. Whether you're a young professional, a growing family, or a retiree, the affordable moving companies Nampa has to offer can help you relocate.
Caldwell: A Blossoming Community

Our voyage through the unique Treasure Valley towns brings us next to Caldwell, a community blossoming with growth, opportunity, and a rich cultural tapestry. As reliable movers Caldwell ID offers to help new residents make this town their home, and they quickly discover the wealth of experiences it offers. From its burgeoning wine industry to its cultural attractions and community events, Caldwell is a town that's full of surprises.
Caldwell's thriving wine industry is putting it on the map as a must-visit destination for wine enthusiasts. The town's wineries and vineyards, set amidst the stunning Idaho landscape, offer exquisite locally-produced wines that are winning accolades on a national level. These establishments provide not just great wine, but also memorable experiences, with tours, tastings, and events that celebrate the region's viticulture.
Historic and Cultural Attractions – Caldwell Train Depot, Indian Creek Plaza
Caldwell's rich history and culture are proudly displayed in its attractions. The historic Caldwell Train Depot, a symbol of the town's past, stands as a museum and cultural hub. Similarly, the Indian Creek Plaza, located in the heart of downtown, hosts a variety of community events throughout the year, reinforcing the strong community spirit that's a signature of Caldwell. This community spirit in Caldwell is most evident during its many annual events, like the renowned Caldwell Night Rodeo. Such events bring residents together in celebration, creating a strong sense of unity and camaraderie. It's these shared experiences that truly make Caldwell a tightly-knit and welcoming community.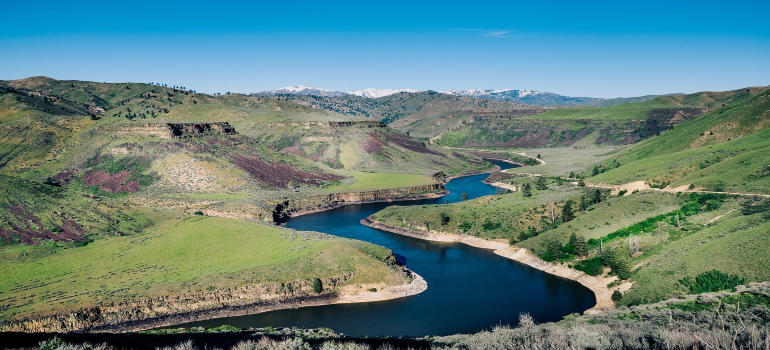 Eagle: Where Elegance Meets Nature
Eagle is a town where sophistication meets the serenity of nature. Nestled by the Boise River, Eagle is a haven that blends luxury with natural beauty. The movers Eagle ID residents use will assist newcomers in establishing their new homes. They are soon captivated by the elegant lifestyle this town offers.  The Boise River gracefully meanders around the town, enriching the landscape and providing ample recreational opportunities for the residents. The city's Greenbelt, a network of trails that run along the river, is a local favorite for biking, jogging, or a leisurely stroll. These natural amenities, readily accessible, play a significant role in shaping the town's active and outdoor-centric lifestyle.
It stands apart for its upscale housing and affluent neighborhoods. The town features a variety of architectural styles, from modern luxury estates to beautiful custom homes, all designed to offer comfortable and high-end living. These residences, set amidst well-kept landscapes, exude a sense of exclusivity and privacy, making Eagle a preferred choice for those seeking an elegant living environment.
Thriving Local Business Scene – Boutiques, Gourmet Restaurants
The local business scene in Eagle is thriving, with a focus on high-quality, locally-sourced goods and services. The town's shopping scene features charming boutiques offering unique fashion finds, while the gourmet restaurants serve a delightful array of culinary experiences, often featuring locally sourced ingredients. The town's commitment to fostering local businesses reflects in the variety and quality of services and products available, adding another layer to the sophisticated lifestyle of Eagle.
Kuna: A Vibrant Small Town
Next on our journey through the Treasure Valley is Kuna. The vibrant small town is known for its strong sense of community and family-friendly environment. With the help of well-established movers Kuna ID trusts, new residents quickly settle in and become part of the community, discovering the unique elements that make Kuna a fantastic place to call home.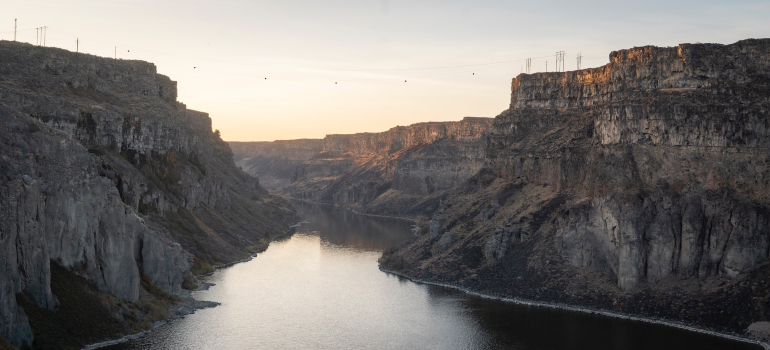 Kuna is becoming increasingly popular among young families, and it's not hard to see why. The town offers a safe and welcoming environment, essential for nurturing and raising children. Moreover, the local schools are committed to providing quality education fostering an environment of learning and development. The mix of safety, quality education, and a warm community vibe make Kuna an attractive option for families.
For outdoor enthusiasts, Kuna provides ample opportunities for adventure. One of the standout natural attractions is the Snake River Birds of Prey National Conservation Area. It serves as a sanctuary for a diverse range of bird species, making it a paradise for bird watchers. It also offers numerous trails for hiking and exploration, ensuring residents have plenty of options to enjoy Idaho's natural beauty. Kuna's community spirit shines brightest during the annual Kuna Days Festival. This event brings residents together in a grand celebration featuring:
parades,
live music,
and fireworks.
Such communal events, celebrated with enthusiasm, strengthen the bonds among residents, making Kuna more than just a town – it's a vibrant community where everyone feels at home.
Star: A Growing Star Among Unique Treasure Valley Towns

As we continue to traverse the unique Treasure Valley towns, we discover Star, a town living up to its name. Utilizing movers Star ID-based, newcomers quickly find their place in this growing community that beautifully balances rural charm with modern conveniences. Star's growth is evident in its expanding residential landscape. The town is witnessing the development of new neighborhoods that offer a range of housing options, catering to different lifestyles and budgets. Despite this growth, Star has managed to maintain its rural charm, offering residents a serene living environment away from the hustle and bustle of larger cities.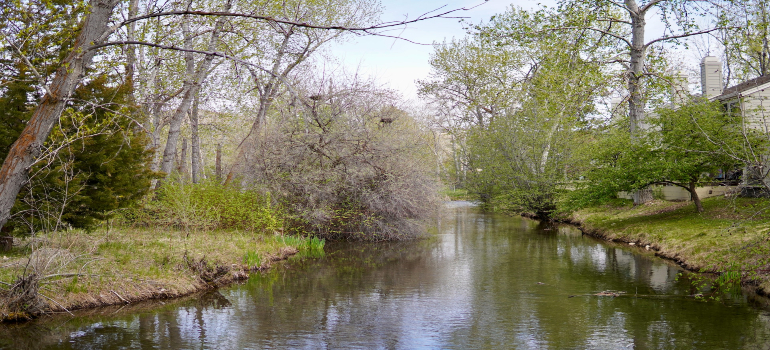 While Star proudly embraces its rural charm, it doesn't compromise on modern conveniences. The town features a variety of local businesses, from grocery stores to restaurants and healthcare facilities, ensuring residents have easy access to all the amenities they need. This blend of rural tranquility with urban comforts gives Star its unique character.
In addition to its appealing lifestyle, Star's proximity to the Boise River adds a natural charm to the town. This allows residents easy access to a range of outdoor activities, from fishing to canoeing, hiking, and bird watching. With the Boise River so close, residents of Star can truly experience the best of Idaho's natural beauty, making it a perfect destination for nature lovers and outdoor enthusiasts.
Wrapping Up Our Treasure Hunt in Treasure Valley

In exploring the unique Treasure Valley towns, from Meridian to Star, the diversity and unique characteristics of each become clear. Meridian is known for its rich history, Star for its rural appeal, and Caldwell for its blooming community spirit. Nampa particularly stands out with its thriving arts scene. Each town contributes something distinct, from promising economies to scenic landscapes and strong community bonds. They offer a wide range of recreational activities and cultivate a sense of belonging among their residents. As a whole, these towns form the vibrant and multifaceted gems of Treasure Valley, each valuable for its individual charm and collective contribution to the region.

Everyone from the packers to the movers were awesome! They were all very professional and showed up when they were supposed to. would definitely use them again.
Let our team put together a comprehensive moving plan for you. Complete our simple free quote form or contact us at 1-208-375-0961.