Boise guide to storing workout equipment
Moving time can be quite challenging especially if you have a lot of seasonal items that you need to pack and store. If you just moved to Boise, Idaho, and your house is filled with gym equipment that you do not where to put, we are here for you. Peasley Moving & Storage is bringing you amazing tips on storing workout equipment. We understand that high-quality equipment may be expensive and you want to keep everything in a good condition. Damaging or replacing it will affect your budget and you cannot put yourself in such a situation. Luckily, there are many things that you can do to prepare and store your gym equipment properly to avoid pests, moisture, or damage. Check out our Boise guide for storing your exercise equipment.
Safety comes first before you try to move your equipment
Most of the exercise equipment is very heavy and consists of many parts. That means that you will need to disassemble it first and move items slowly to avoid injuries. Don't try to lift heavy weights by yourself or any large components. Ask for help and make sure that you both grab the item at the same time and move it carefully to the safe and secure self storage Boise. Do not do any extreme moves when holding heavy objects in order to prevent back or joint injuries. Never lift more items than you can handle especially when going down the stairs.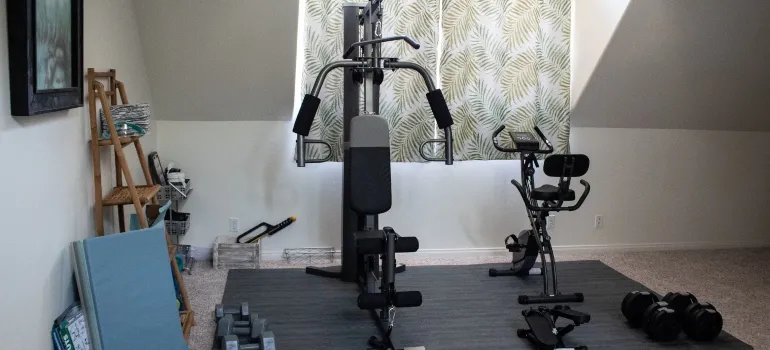 Don't forget to label parts or items when you disassemble them so you know how to properly put them back when you need them. You can make reassembly bags where you will put all the small parts and store them together with each piece of equipment. Additionally, you can always ask for help from moving companies that guarantee the safety of your equipment. Sometimes it is wise to invest in order not to lose time or energy on this maneuver.
Clean and lubricate all of your items before storing them
Whether you are using your workout equipment often or not, they are exposed to dust and germs. You don't want to store them without cleaning all the sweat and germs from them. Always disinfect and wipe all visible areas and surfaces. If the equipment has handles, then pay more attention to them. Before wrapping or packing them, make sure they are dry completely. Some items might need lubrication, such as treadmills or exercise bikes. The last thing you want is to take your equipment again and realize that you cannot use it because of improper preparation and storage. However, if you do think you need help, you can always opt for our full-service storage in Boise. You only need to tell us your requirements and our professional team will be likely to meet them.
If you have delicate items, keep them in sealed boxes
After finding a good storage facility Boise ID has for these purposes, it is time to pack all your items. Many workout programs include soft, flexible, and delicate items such as resistance bands or yoga mats that can be damaged. These items will quickly deteriorate if you leave them like this in the storage unit. You need to make sure you protect them from heat, moisture, or intense light. The best idea is to put them in a sealed container and label it properly. If you have stability balls, we recommend that you deflate them first and cover them with a cloth to avoid dust or pests. Moreover, treadmills should be stored in dry and cool units with a regulated temperature all year round. If you still keep their instruction manuals, check whether each piece of equipment can withstand fluctuations in temperature.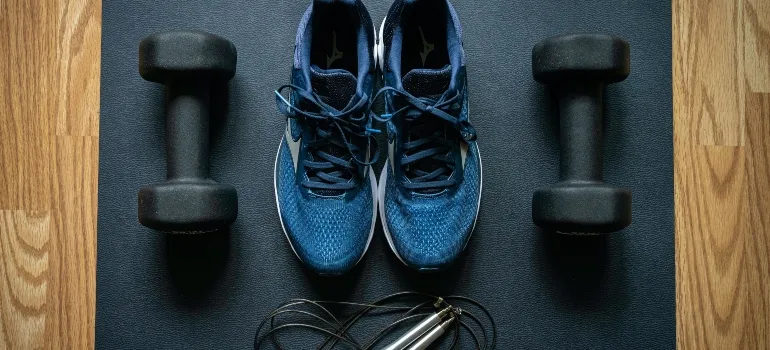 Electronic workout equipment requires special attention
Nowadays, a lot of workout equipment contains digital parts that enhance their productivity. Those can be smart treadmills or equipment with AC adaptors and batteries. To make sure that the item is stored properly, make sure to disconnect such parts during storage. Additionally, you need to properly cover them in order to protect them from dust or serious damage. If you are not sure how or what to use, you can always get moving and packing supplies Boise has to offer you. Some smart equipment has software that needs to be properly shut down before you unplug them, so talk to your local provider or read instructions carefully. Paying special attention is necessary for adequate storing gym equipment.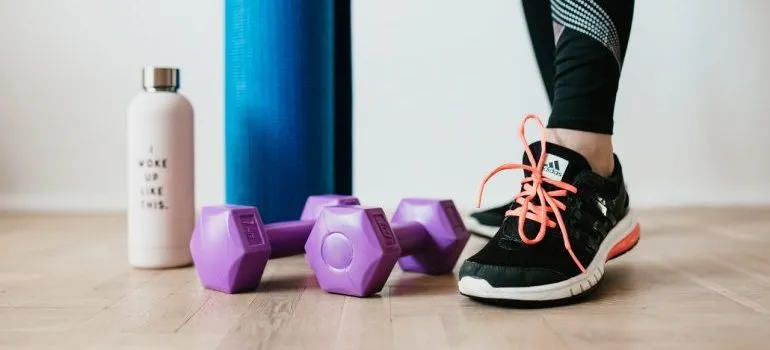 Utilize wall and ceiling areas when storing workout equipment
Make sure to use every aspect of the storage unit you have rented. If you are working with a limited area, you need to think and store vertically. This means that you need to use as much as you can the ceiling and wall areas. We recommend that you invest in shelves and racks so you can store your exercise equipment such as weights, yoga mats, etc. If you have exercise benches, you can use them perfectly for saving space and adding items beneath them. You can stack containers and bins between racks and benches and create a perfect base for more items. Don't forget to label bins so you can easily find whatever might be needed afterward.
Find a perfect location for your workout equipment
Storing workout equipment and organizing your storage unit can be easy, but you definitely need to think about its location. You cannot simply throw away these items anywhere. They require special protection from theft, damage, and extreme weather. Take your time and look for adequate storage units for your gym equipment. Talk to the professionals and let them know what you need and expect from those services. Think about whether you will be accessing them often or you need them stored for a certain time. Whatever you decide, you will not have to worry about this safety and condition.

Everyone from the packers to the movers were awesome! They were all very professional and showed up when they were supposed to. would definitely use them again.
Let our team put together a comprehensive moving plan for you. Complete our simple free quote form or contact us at 1-208-375-0961.