Useful tips for moving your grandfather's clock
Some things in life are just more valuable than others as they carry a significant emotional value. Your grandfather's clock is one of them. This is one family heirloom that you will want to keep safe and protected at all times. So if you are currently worried about moving your grandfather's clock because you have gotten married, are moving to a new city for a better job opportunity, or you simply want to move it from one room to another, then let us help you accomplish this task with success. As reputable Idaho movers, we are always more than happy to help you with tasks as important as this one.
Have your clock professionally serviced
A grandfather clock can oftentimes be a very valuable piece. And once anything that valuable is that fragile, you need to take extra measures of precaution. Before even trying to have your clock relocated from point A to point B, the number one thing you should do is have it professionally serviced. You need to make sure that your clock is functional and in perfect condition, as that's important for both you and your movers. It helps everyone be on the same page when it comes to the condition of the item and everyone will know exactly what to pay attention to.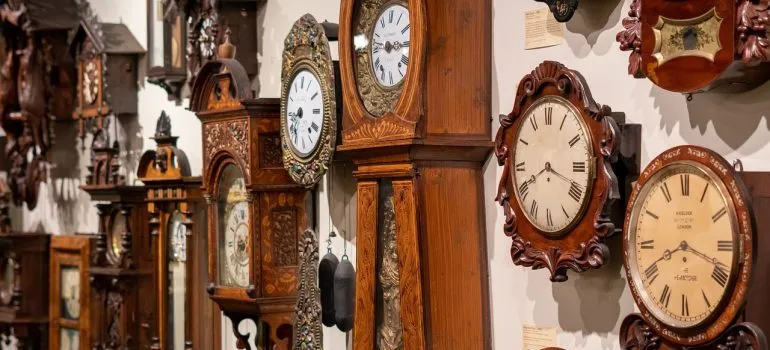 Get some help when moving your grandfather's clock
There are some moving tasks that you will be able to do by yourself, such as shopping for packing supplies Boise ID. However, there are just as many tasks that will require lots of help. And the process of relocating your grandfather clock is certainly one of them. If you plan on approaching your relocation in the good old DIY style, then you should get at least an extra set of hands. Did you know that your clock can weigh anywhere between 100 and 200 pounds? You might even need three other people just to move your grandfather's clock.
In case you have decided to leave the most important moving tasks in professional hands, then you should search for movers Star ID trusts. A team of professionals will be just what the doctor ordered, as your movers are people who handle these kinds of tasks for a living. However, should you decide to relocate a grandfather clock on your own, you ought to follow a few steps.
Remove the weights
The weights of your clock are an integral part of its mechanism. They are long and heavy and will only make the transport of your clock more dangerous. Hypothetically speaking, we could leave the weights where they are. However, that would only make the entire endeavor more dangerous, as the weights could swing around and damage the glass around them. Once you take these out, you'll have a good image of their size and weight, and that would help you realize why removing them was such a good idea.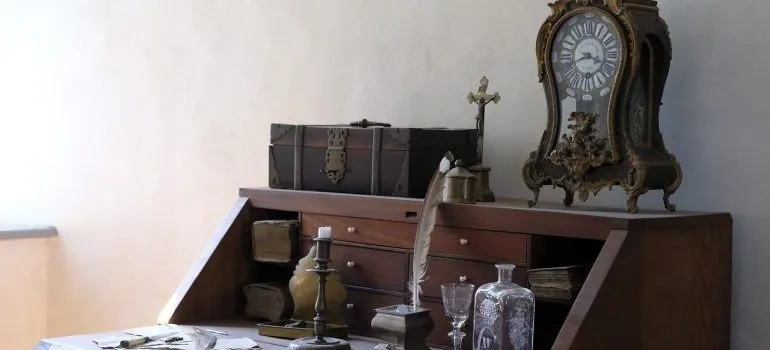 Protect the weights from damage
Even though the weights look very big and robust, they are extremely prone to damage. Our residential movers in Boise will tell you that protective materials are the most important piece of your moving puzzle, as they keep your items safe from any damage. Since you don't want to see your grandfather clock damaged, then it's only logical to protect one of its biggest pieces – the weights. Wrap every individual weight into a thick moving blanket in order to prevent your items from getting scratched throughout the move. You'll be thanking yourself that you took this extra step once your clock (and all of its parts) arrives safely at the new location.
Stabilize your clock from the inside
The glass on your grandfather clock is so fragile that the slightest bump on the road could damage it. Well, it's safe to say that a bump on the road could damage a lot of the items you currently have at home, which is why getting moving valuation is so important. In order to prevent the glass on your clock from shattering, you need to resort to the aforementioned moving blankets. Stuff them inside the clock, but make sure you don't put too many of them. The goal is to stabilize the clock from the inside by cushioning it with moving blankets. This step together with the next one will create the perfect environment for your clock to be relocated.
Protect the clock from the outside
Now that all the weights and the insides have been protected, you are almost ready to start moving your grandfather's clock. However, there is just one last thing to do – protect the clock from the outside. Before you put your grandfather clock in a moving truck, you will want to wrap it in moving blankets. It would be good to have another person help you wrap the blanket tightly, as there should be no air gaps between the clock and the blanket. Once you think that your item is secured, you can wrap the tape around it and get it to a safe place inside the moving truck. It's always better to have local movers in Boise take care of this task, but we know you can do it, as well.
The bottom line
If you are thinking about moving your grandfather's clock, then you need to be careful and attentive. This is an item that usually costs a lot of money, which is why it requires special handling. It's always best to have moving professionals handle items that are this delicate and that expensive. But if that's not an option, then you will want to dedicate enough time and attention to the process. You'll be glad that you did once your item arrives without any damage.

Everyone from the packers to the movers were awesome! They were all very professional and showed up when they were supposed to. would definitely use them again.
Let our team put together a comprehensive moving plan for you. Complete our simple free quote form or contact us at 1-208-375-0961.