The Most Difficult Pieces of Furniture to Move
Moving furniture is a challenge, that much is true. If you want everything to be smooth and damage-free, there are quite a few steps you need to take. But, there are a few furniture pieces that can put you through quite a rough ride, before you safely deliver them to your new home. Luckily, we can provide you with excellent moving services Boise ID, which will make your life more convenient. With our help, you'll learn about the most difficult pieces of furniture to move. But, in addition, you'll learn how to deal with them, as well as a few other nifty tricks. Let's get started!
What kind of furniture is the most difficult
Some of the most difficult pieces of furniture to move are bulky ones. Sofas, dressers, cabinets, and beds, all offer their own sets of challenges during a relocation. Just their shape and size alone turn moving them into an intensive, back-breaking task. Then there are large appliances such as washers, driers, and even TV sets. Not only can they be bulky, but their delicate nature also adds another layer of caution when the moving day arrives.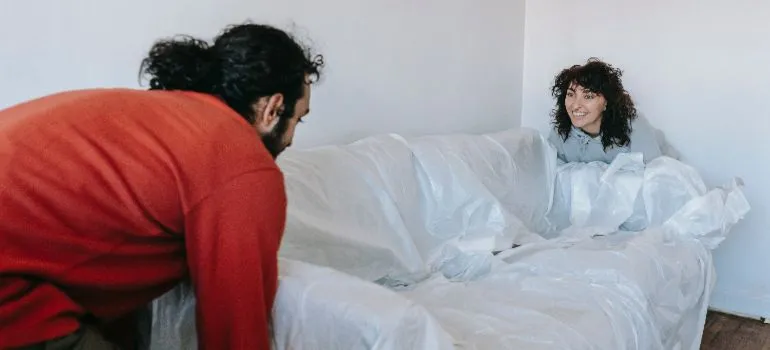 But, even though furniture moving can be quite a challenge, there's no reason to worry! Because our experts at Boise moving and storage are here to offer you a helping hand. Today, we will go over some of the hardest pieces of furnishing to relocate. We know just how difficult of an experience this can be, and that's why we'd like to make sure your experience is smooth and safe.
What makes the most difficult pieces of furniture to move so challenging?
Before we dive into different types of furniture, and the best methods to handle them, we need to cover an important topic. For you to understand how to handle furniture the right way, you first need to understand why it is important to do so. One of the key reasons, in most cases, is the size. Furniture pieces such as closets, dressers, and beds, are made quite large in order to fill a specific purpose. And, usually, a large size is accompanied by a large weight. If you lack experience or a team of professional movers by your side, this can be a recipe for disaster. Attempting to move such pieces of furnishing alone, without disassembly is simply asking for trouble. One wrong move and you can sprain your back, pop a shoulder, or worse.
In this case, we strongly recommend the help of our furniture installation services. They'll quickly disassemble any item, transport it, and put it back together just the way it was. Besides size and weight, sensitivity is another important factor. Delicate items, such as TVs, stereo systems, and other devices, usually aren't that heavy. However, they are full of very delicate components, which can get damaged beyond repair by even the slightest bump.
Lastly, there is value. Certain pieces of furniture, such as paintings, mirrors, and artwork, aren't bulky. What they are, however, is delicate, and extremely valuable. Their sheer value alone increases the risk of handling them in a relocation. Even the slightest chip or dent is enough to render them worthless, and ruin your moving day. All of these factors combined call for professionals with a steady hand, experience, and an arsenal of excellent packing supplies.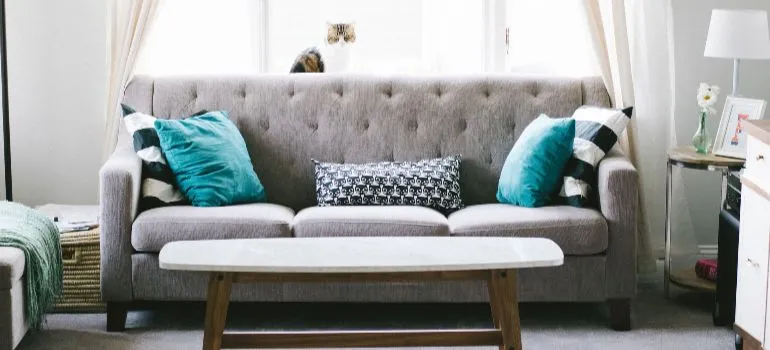 A list of the most difficult pieces of furniture to move
Now that you know the reasons behind calling specific furniture "difficult to move", we can delve deeper into the specifics of the matter. In the following section, we'll go over a few furniture pieces, explain why they're so troublesome, and provide you with a few tips on how to relocate them successfully. Keep in mind that some of these items are not what you would traditionally call furniture. However, they've become such a standard part of our daily lives, that they've blended into the term and become synonymous. And after all, semantics are not what we are after anyway. What is important is your safety and a positive experience when the moving day arrives!
Large closets, dressers, and bed frames are the obvious culprits
Whenever someone mentions furniture which is difficult to move, you will most likely immediately think of large items. Closets, dressers, nightstands, and beds are all a part of our daily lives. And as you know, they can be quite heavy and cumbersome. This isn't a problem at all when they are sitting still in your bedroom. But, when you make a decision to relocate your home, you begin to realize just how many pieces of bulky furnishings you need to deal with.
One of the biggest problems of moving large furniture, besides its size, is the weight. Figuring out how to avoid damages during a move, and acquiring packing supplies Boise, means nothing if you don't have the ability to even remove the piece from your home. But, the good news is, we know a few nifty tricks of the trade. The very first thing you need to do when it comes to large furniture is figure out how it will leave the house. To do this, grab a tape measure, and get to work. Measure your furniture piece, and then measure the width of every hallway and doorway in your home.
This way, you will know if you have enough room to safely remove the furniture piece from the house. If your furniture can't fit through the passageways of your home safely, the next step is disassembly. Your chosen movers can safely break down your closet or wardrobe, pack the pieces individually, and safely transport them to your new location. Once there, they'll put everything back together so it looks good as new. As we've already mentioned, trying to tackle items like these is something you should never attempt on your own. Safety first!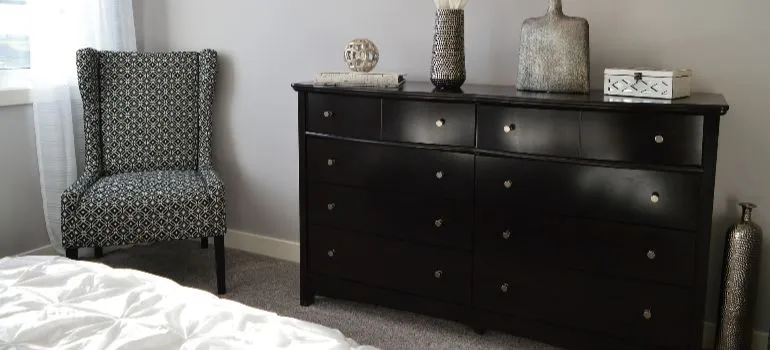 Pianos – pleasant tunes with unpleasant relocation obstacles
There are quite a few reasons why many professional movers offer specialty services strictly for moving pianos. In fact, there are quite a few movers who exclusively offer piano moving services. As with the furniture we just mentioned, the size and weight of these instruments are just one of the reasons why you need piano movers Boise by your side.
There are many different types of pianos, but they are all roughly built in the same manner. If your piano is the upright type, the relocation will be quite simpler. Just keep in mind that a piano is not something you can easily disassemble and reassemble. This is why getting it out of your home in one piece is the only option at your disposal. Furthermore, pianos are full of moving parts, and this fact makes disassembly virtually impossible.
To safely move a piano, you need to ensure that its entire body is fully protected. This implies wrapping the piano body with thick blankets or padding, securing everything tightly in place. If your piano type allows it, you can remove the legs in order to reduce its size, and make it more movable. As with bulky furniture, a successful extraction depends on the width of your hallways. If you can carry, or wheel, it out of the home, then you're halfway done.
In case the wheels can't be removed from the body, remember to line your floor with padding, as a piano can be quite heavy. In a worst-case scenario, where a piano can't be removed by normal means, your movers will have to use special cranes to remove it from your home through a window.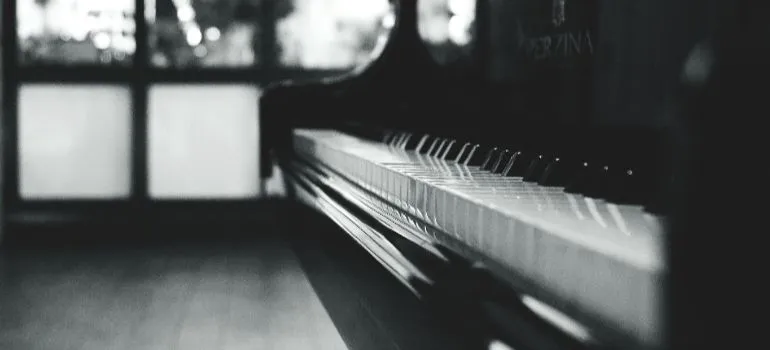 Electronics are quite difficult to move due to their sensitive internals
Sound systems, projectors, computers, and more. Every home is full of them. Because of this, electronic devices have become a staple in every modern home. However, as well-established as they are, they are also very delicate. If one of the speakers on your sound system dies, for example, it usually isn't even worth repairing it. Alternatively, if you want to repair it, you'll most likely have to pay quite a lot. This becomes especially true when it comes to office electronics.
When dealing with office devices, Boise office movers are nothing short of mandatory. In an office move, you must handle the regular devices, such as computers and phones. But, there is also specialized equipment that requires special handling. Measuring devices and sensitive machinery require an experienced hand working with good materials. To handle electronics with ease, you have to approach their move methodically. For starters, you have to carefully disassemble them. This implies safely unplugging them from their power source, without risking damage to the internals.
Once you do this, disconnect the cables and place them in labeled ziplock bags. To make reassembly easier, you can take photos of the cable organization on your device, or draw a simple diagram that will help you later on. To pack the devices themselves, you will need specialty boxes made of corrugated cardboard which is great at absorbing impacts. Tightly wrap your devices in bubble wrap or styrofoam, and top the box off with packing peanuts. This will ensure a snug fit and remove any risk of damage during transport.
Additional safety tips for moving difficult pieces of furniture
As you can see, the most difficult pieces of furniture to move truly deserve their title. However, thanks to our brief moving tips, it quickly becomes obvious that things aren't as bad as they seem. Tackling these items is more than doable, especially when you have our reliable movers by your side. But, there may be situations when you simply have to relocate on your own, without backup. In times like these, our moving tips will be a welcome aid. However, you can't forget about your own safety. In this segment, we'll go over a few generally accepted safety practices you can use. These are general guidelines that apply to any kind of relocation, not just to large furniture specifically.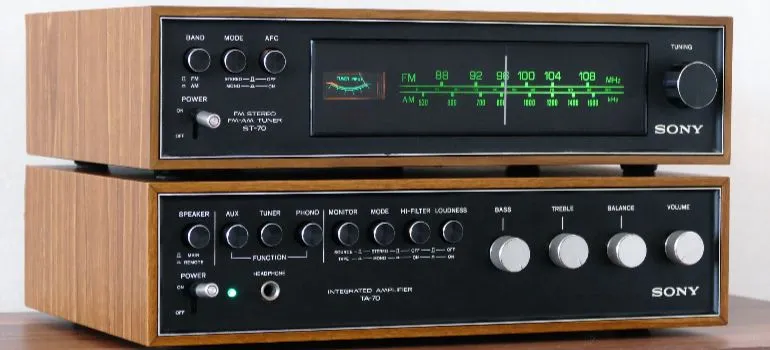 Proper gear makes all the difference
Get the proper tools for moving heavy furniture in order to avoid accidents and injuries because this type of furniture tends to weigh more, be bigger, and be more difficult to transport than initially anticipated. To make your move simpler and safer than ever, rent or buy the furniture moving tools listed below:
A furniture dolly. This nifty tool is a mover's best friend. It is merely an L-shaped handcart on two wheels, but don't let the simplicity fool you! It's incredible how useful and essential a moving dolly can be for handling the most difficult pieces of furniture to move. On your moving day, there won't be a scarcity of big, heavy objects for you to transport, that much is sure!
Furniture sliders. Nothing is more annoying than scratches and gashes on your floor caused by dragging heavy items. A slider is a piece of sturdy plastic with hard rubber on one side which makes moving heavy furniture a piece of cake!
Moving straps. You can easily lift heavy furniture thanks to the mighty strap. It redirects the weight from your back to stronger muscle groups, relieving stress and reducing risk.
Of course, gear can be a universal term and doesn't just apply to tools. In our case, it applies to your choice of clothing on a moving day as well! You'll be in motion a lot, so it is important to wear something you're comfortable in. Your best choice of footwear would be running shoes with rubber soles for extra grip. Baggy clothes can get hooked in furniture and doorknobs, so consider something which is form-fitting, yet breathable.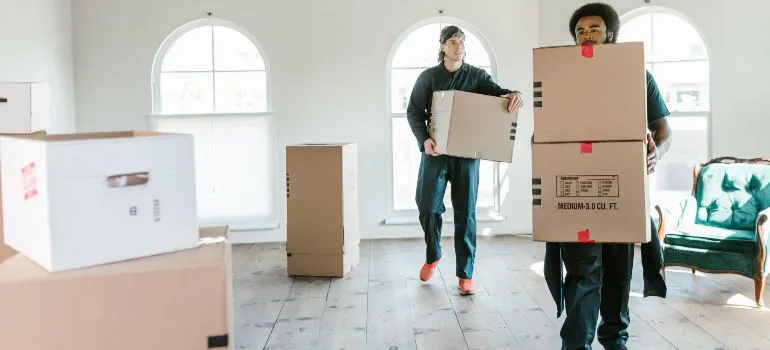 Tackle those difficult-to-move furniture pieces with the right lifting techniques
Using the correct lifting procedures that are universally accepted is the best safety tip for moving big objects. If you want to stay safe, you really need to stick to this advice. If you do, you'll avoid furniture moving accidents with ease. In order to stay safe, make sure to:
Lift with your legs instead of your back. Your lower limbs will have a much easier time handling the weight than your spine.
Whenever you can push heavy furniture instead of pulling it to reduce strain.
When carrying items, keep them close to your core to maintain balance.
Keep your eyes focused in front and avoid making sudden movements.
It is also important to understand that you'll be required to perform awkward and unusual motions, like bending, pushing, tugging, twisting, and, of course, carrying heavy furniture. Your body is not accustomed to this, and as a result, it's possible that you or one of your helpers will sustain some form of injury.
Time to move!
Now that you're armed with knowledge and good advice, you're ready to take on the world of furniture moving. We've introduced you to some of the most difficult pieces of furniture to move, as well as ways to tackle them with ease. Now, you are truly ready for the moving day. The important thing is that, not only will you know what to do, but you will be safe while doing it.

Everyone from the packers to the movers were awesome! They were all very professional and showed up when they were supposed to. would definitely use them again.
Let our team put together a comprehensive moving plan for you. Complete our simple free quote form or contact us at 1-208-375-0961.