The risks of hauling heavy equipment by yourself
Moving heavy equipment is a risky business that only professionals can handle safely. However, in some situations, people decide to do it without a professional's help. If you are thinking about doing this, Peasley Moving & Storage has prepared an article for you with all the risks of hauling heavy equipment by yourself. Read it and learn what you will be facing.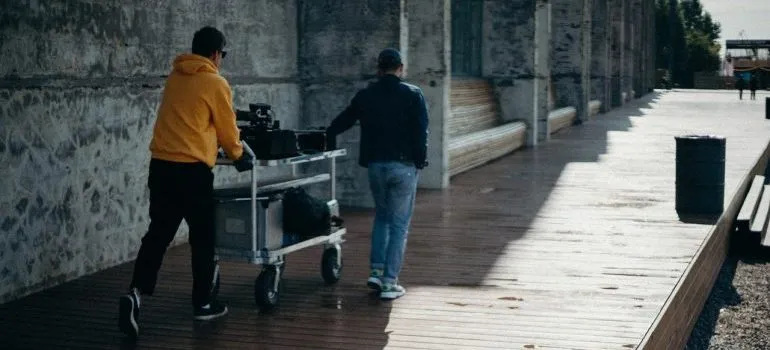 Plan your operation thoroughly and make sure that you prepare well
There are many things that you need to prepare for to be able to successfully haul heavy equipment while avoiding potential risks. First of all, you need a proper plan. You cannot just start loading it all into a truck and start driving. If you do not have a plan on how to do it properly, trouble is just around the corner.
Even if you have done this before and you think you know what you are doing, having a plan will make things much easier. Plan the crew, tools and equipment, and route. But also, plan for the loading and unloading process regardless of whether you are moving it from your company's warehouse or industrial storage that you are renting. Here is what to prepare before you begin
You will need a proper plan that will help you to do things properly and avoid the risks of hauling heavy equipment
A team of strong and experienced helpers
Proper tools, equipment, and packing supplies Boise
A suitable and well-maintained vehicle
Choose the right type of trailer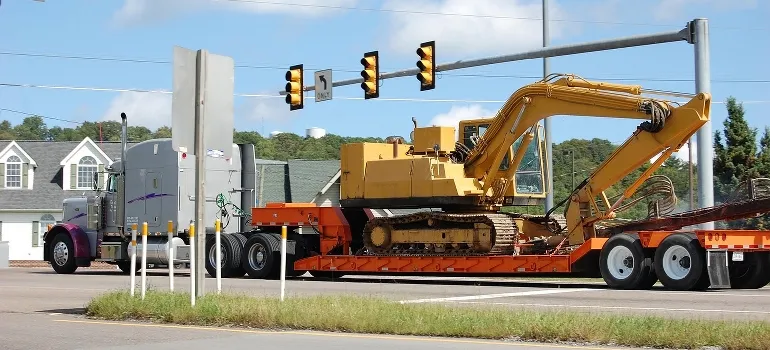 One of the most important things and the thing that can eventually make a difference between a smooth and a difficult haul is the vehicle you use. Of course, hauling heavy equipment on your own means that you will need a truck with a proper trailer. However, there are many types of trailers that can be used for this type of job. And you need to make a smart choice.
The important thing is not to make such decisions if you are not absolutely sure they are right. If you are not sure about this, ask someone who has enough experience in industrial moving to advise you. Here are the types of trailers that you can use for hauling heavy items:
Lowboy or gooseneck trailer
Step deck trailer
Flatbed trailer
Double drop trailer
Stretch trailer
Every one of these trailers has a specific design that can be useful in particular situations. So, make sure that you understand your needs well before you decide which of these trailers to use for hauling your heavy equipment.
List of potential risks when hauling heavy equipment by yourself
When it comes to potential risks that you can expect when hauling heavy equipment by yourself if you planned it right and prepared proper equipment you are already halfway to avoiding them here is what you can expect and what you should try to avoid.
Loose chains and parts that will move around the trailer during transport
Faulty trailer
Problems with tires
Unbalanced weight distribution
Choosing a wrong route
Unsecured parts are potential risks for all traffic participants
When it comes to the risks of hauling heavy machinery by yourself, one of the biggest is unsecured items that you are moving. Loose chains, straps, or other parts that you forget to remove and secure can cause you many issues during transport. Not only that you can lose those parts or damage them but you are can also bring other people in danger. So, make sure that everything is tight and secured before you go.
A faulty trailer can endanger your precious cargo
Regardless of whether you are renting a trailer or you are using yours, you need to inspect it thoroughly before leaving. Faulty lights, leaking hoses, loose connections are just some of the potential problems that you can find with trailers. Check it meticulously before you start hauling.
Check the pressure in your tires before and after your load the truck
When moving heavy equipment, you will have many tires that will be carrying that load. Many tires, however, also mean many potential problems. And we are not talking only about faulty tires. We are talking about pressure because over-inflated or under-inflated tires can bring your entire operation into risk. Check the pressure before and after you load your heavy cargo.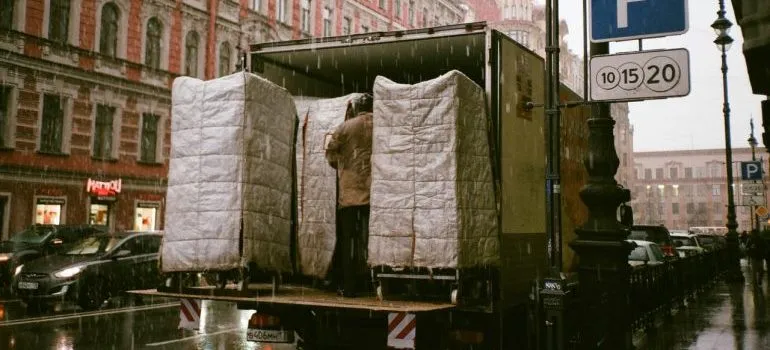 Make sure that you distribute the weight evenly
One of the biggest risks that can endanger your cargo, vehicle, but also your own well-being is the unbalanced weight. The weight of your load needs to be evenly distributed across the axles. If the weight is not balanced you can easily lose your cargo. Also, there are rules about how much weight pressure can be on your front and rear axles so make sure that you follow that.
Make sure that you choose the best route
Another important thing that you need to watch out for is the choice of route. If you choose a bad route, all the things that you have done before that will go to waste. So make sure that you do good research and think everything through well before you chose the road you will use.
Hiring a professional logistics company is always an option
As you can see, there are many risks when hauling heavy equipment on your own. That is why we always suggest that you hire a professional crew that will know how to do it properly. Still, as you can see, there are ways to do it by yourself. But you will need to bear in mind many things and you will need to have enough help and proper tools in order to be able to do it properly. Nevertheless, we wish you good luck with whatever option you chose.

Everyone from the packers to the movers were awesome! They were all very professional and showed up when they were supposed to. would definitely use them again.
Let our team put together a comprehensive moving plan for you. Complete our simple free quote form or contact us at 1-208-375-0961.