How to properly move your Meridian home appliances
Moving is a big change, and it requires you to leave some items behind. But if you plan it well, there's no reason not to move your Meridian home appliances with you. After all, why pay for new appliances when the old ones are working perfectly well? All it takes is finding quality movers and they will take care of it. But just as it is useful, it does present you with a couple of challenges. Especially if you don't want to enlist the help of moving companies Meridian. You need to find ways to safely move even the most fragile appliances without damaging your floors in the process. It's a challenge, but with good planning anything is possible.
Why would you want to move your Meridian home appliances?
Home appliances are difficult to move, there's no getting around that. Moving them on your own will require a lot of effort and preparation. It's challenging even for the best Idaho movers, especially if you are not located on the ground floor. So it's natural to ask yourself is it worth it? In today's economy, when home prices are skyrocketing, when living expenses are going up every month, saving money is very important. And you can potentially save a lot of money when moving your home appliances, even when moving long-distance.
The cost of moving home appliances
Moving appliances isn't cheap, there's no getting around that. Even if you were to move on your own, you still need to think about many different expenses. You need special equipment to protect both your appliances as well as your home. While freight companies Idaho offer great prices nowadays, it's still a big expense. If you are moving them on your own, you need to think about truck rental costs and gas. You also need to pay for uninstalling and installing those appliances in your new home.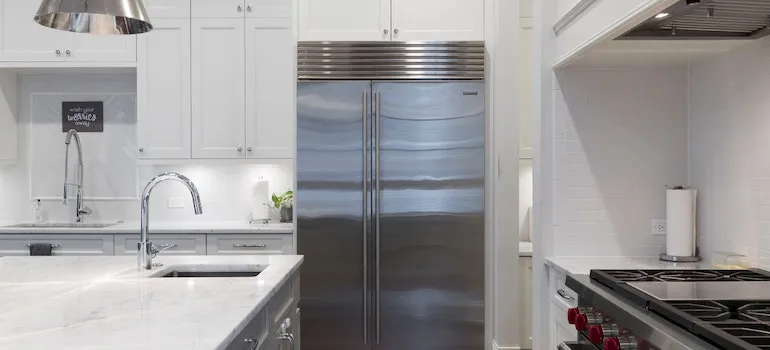 With all that being said, it's still more affordable to move your home appliances than buy new ones. Especially if you have quality appliances. The average price of a refrigerator in the US in 2022 is between $1,000 and $2,000. That alone can cover the costs of moving most of your appliances. So, is it worth it? In most cases, it will be worth it to move home appliances. How should you go about doing it? Well, let's explore that subject a little further.
How should you go about moving your Meridian home appliances?
Moving appliances isn't easy or straightforward. You need to be aware of that before you get started. But, with a little bit of preparation, quality movers, and a good plan, it will be very well worth it. So, you need to get started, but how? You have two options:
You can move your Meridian home appliances on your own
Or you can hire professional movers to assist you
While the age-old debate about moving on your own vs hiring movers is still going on, there are both pros and cons to both. While moving on your own will save you some money, it's not always the best solution, and there are many reasons for that. But more on that later. Let's first talk about how to prepare your appliances for relocation.
Good preparation is key to a successful relocation
Just like with anything else, if you are well-prepared, you can look forward to success. It's the same when moving appliances, only the preparation part is much more important. Appliances range from small ones to some really large ones. A refrigerator can weigh up to 400 pounds. It's not something that you can easily move around your home. So you need to think this through. A standard run-of-the-mill moving guide won't help you much. You'll need a much more detailed plan of action. You won't have time to think about logistics or strategy once the moving day arrives. You need to know what you will do and how.
Make a moving plan for your Meridian home appliances
A good plan can make even the most difficult tasks seem easy and straightforward. So it's always a good idea to make a plan, even if it's just in your head, about how would you go about moving your appliances. There are 3 crucial steps to moving any item.
Getting your home appliances from your home to the moving truck and loading them
Transporting appliances to your new home
Unloading and carrying appliances to their final destination
Each step comes with its unique challenges, so you need to be prepared to meet them. Note that hiring local movers Boise will make this task much easier. You won't have to think about protecting your floors and won't have to trouble your friends to help you. With quality movers, your only job will be to organize everything and make sure that your appliances can properly fit into your new home.
Make sure you take measurements of both your appliances and your doorways
One thing that people often forget to do is take measurements. You need to make sure that your old appliances will be able to fit into your new home. And we're not just talking about whether or not they'll go well with your new kitchen. Some homes simply have narrower doorways. So some appliances might need to be taken apart, while others might not be able to fit at all. It's important to think about these issues beforehand. If you happen to miscalculate, and you can't fit an item into your new home, you can always rent storage units Boise and place your items there for safekeeping. But you would have wasted time, money, and energy on moving your appliance without the savings it brings. So make sure you measure twice.
Empty, clean and prepare your home appliances to get them ready for your Meridian move
Cleaning is an important step in every relocation. It's especially important when you want to move your Meridian home appliances. Most of our appliances, and especially large ones, sit in a single space for years. They are heavy to move some we don't clean their back or bottom very often. Over time, especially with kitchen appliances, grease can accumulate on the back side that you don't have access to clean. So now, when you need to move your fridge, for example, you'll need to clean those areas.
First, empty your appliances. Make sure nothing is left in the oven. Eat as much food from your fridge as you can so you don't have to waste a lot of it and empty it. Never move a fridge without emptying the contents. The same goes for your freezer as well. Unplug your appliances, take your favorite degreaser and a wet cloth and clean your appliances from all sides. Again, make sure that your appliances are unplugged from the electricity before you begin cleaning the back side.
The same goes when you are cleaning smaller kitchen appliances. Even though they might not be greasy, you'll still want to clean them. Having everything already nice and clean in your new home will make moving in that much more comfortable.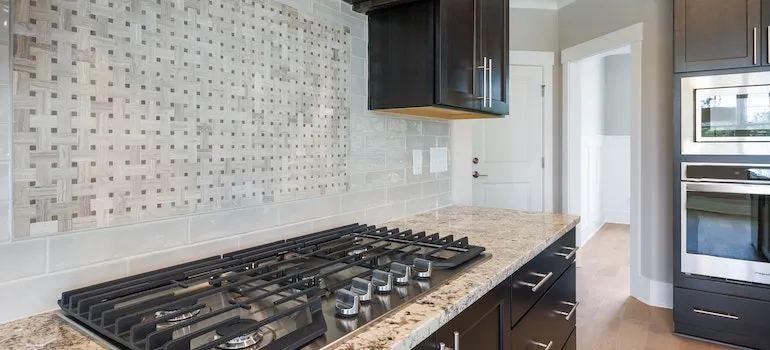 Tips for securing various kitchen appliances
Now all home appliances are the same. Some will need extra attention when moving, while others can be simply cleaned and transported. When it comes to the heavier and more complicated appliances, here's what you need to do:
Empty your fridge, clean it and remove all the shelves. Make sure you wrap them separately and ensure they don't jump around in the fridge during your ride. Tape the door shut.
When it comes to your stove, unplug it, remove the rack from the shelves, secure the knobs, and tape the door shut. Clean both the interior as well as the exterior.
Before moving your washing machine, make sure you properly turn off the water input and disconnect the hoses. Leave the door open for a day to dry the moisture inside, then tape the door shut. It's best to secure the hoses to the machine for transport.
The same goes for your dishwasher. Remove the racks, clean, and leave the door open to dry. Don't forget to properly disconnect input and output hoses. Again, tape the door to prevent it from opening.
It's time to start moving your Meridian home appliances
Now that everything is nice and clean you can begin the final preparations for moving your appliance. The best thing that you can do is hire professional movers. It's perfectly fine that you want to make your move more affordable. But once you calculate how much all the moving equipment that you'll need is going to cost you, you'll quickly realize that hiring movers is actually a good deal. But more on that later. For now, we need to make sure that you have a clear path from your appliance to the moving trucks. So, make sure that there are no objects on the floor that might make you slip.
An important note, that many people tend to disregard, is to not do it alone. It might seem possible, and it might as well be. But if you try to move those heavier appliances on your own you can get seriously injured. In the best-case scenario, you'll get your items banged up. So call your friends or hire professionals. 
Gather all the needed moving equipment
There's a reason why the moving industry is so large. Moving is much more than just carrying heavy items and driving them to their destination. Professional movers come equipped with a wide range of tools that help them both move items easier as well as keep your home and appliances safe. It's often more affordable to hire movers than to even rent all the equipment you'll need for a safe relocation. Here are some of the essentials:
Dolly and hand carts are extremely useful when transporting heavy items. You can even stack multiple boxes on a dolly. It will make moving a lot easier
There's a thing called a stair climbing cart. As the name suggests, it helps you climb your heavy appliances up and down the stairs
In case your appliances are too large for a dolly, you'll want to consider using plastic floor guides. They can be slid under a heavy appliance so you can slide them without scratching the floor.
These are the most popular and mouse useful ones. There are countless others that both serve to protect your home as well as your appliances. From air sleds to corner protectors. So make sure you that this into account when planning your moving budget. Even renting all these items is going to cost you a pretty penny. But if you move without them, you can end up damaging your home, which can cost you even more.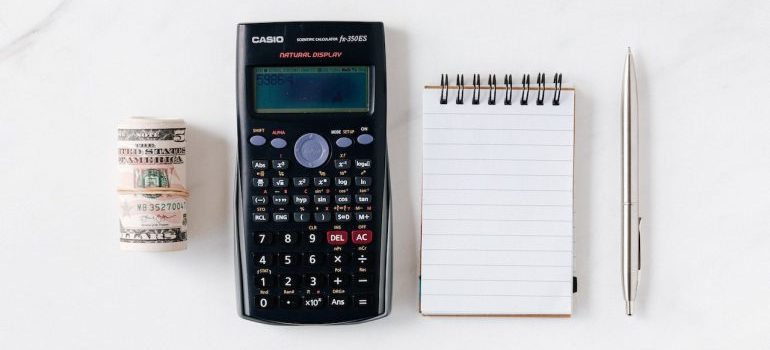 Another thing that you should not forget if you are moving on your own is protective gear. While you probably won't need a helmet, buying a pair of protective gloves can save you from a lot of blisters.
What to do after you move your Meridian home appliances?
Moving your appliances is just part of the job. After you arrive you'll have to unload your appliances, plan a new layout and connect everything. That's another expense that you need to worry about. While a lot of moving companies offer furniture installation services, not many offer appliance installation. So make sure you check with your move because that's often a more affordable way to go. If not, you'll need a plumber and/or an electrician (depending on your appliances) to assist you in connecting everything.
It's not easy to move home appliances but it's often worth it
Moving home appliances takes a lot of time, effort, and money. But in the end, it can be a much more affordable option than buying new items. Hiring movers will make the entire task a lot easier and you won't have to worry about injuring yourself or damaging your home. If you are, on the other hand, planning to move on your own, make sure you get some help. Don't try and move a 400-pound refrigerator on your own. Measure twice so you know you can fit your items. Rent or buy moving equipment and you are ready to move your Meridian home appliances.

Everyone from the packers to the movers were awesome! They were all very professional and showed up when they were supposed to. would definitely use them again.
Let our team put together a comprehensive moving plan for you. Complete our simple free quote form or contact us at 1-208-375-0961.