5 common mistakes when hiring moving companies
In the US, people sell more than 6 million homes every year. Even more, they rent to people who decide to move to a new neighborhood, city, or country. If you are a person who recently decided to move to a new home, then you certainly want everything to go smoothly. However, it is not easy to always do everything properly. Sometimes people might make mistakes when hiring movers. Idaho movers are reliable, and they have been in business for years. But how to know whether movers are reliable and whether to hire them? This is not an easy thing to determine. However, there are facts that you can check and things to learn to find out. Packing, loading, and unpacking is back-breaking work. Therefore, having professionals around is a must. So, read this article to find out about common mistakes when hiring moving companies.
Why do people make common mistakes when hiring moving companies?
This can happen very often, especially for those people who are moving for the first time. Even for those with some moving experience, things can be tough. The reason for this lies in the fact that there are so many moving companies on the market. In addition, it is not always easy to determine what you need. That is why you need to contact your movers and present them with your moving ideas. Freight companies Idaho should then provide you with a precise moving schedule together with all the services that they offer. In addition, what many people do not know is that movers should offer a free estimate on their site. This will give you the opportunity to collect several different estimates and then compare them. Only after you carefully check every detail, can you choose a moving company.
Not getting an estimate in writing
No matter where you are moving, it is important to get the estimate in writing. Apart from free quotes, some moving companies may offer moving estimates over the phone. But this will simply not be enough. Whatever you agree with your movers, let them send you via email or on paper. In addition, if you book commercial storage, or whether you choose any additional service, your movers need to state it on paper. If you fail to put all this in your moving contract, one of the most common mistakes when hiring movers is that you will pay for extra costs. If you are not sure what your moving estimate should contain, you can consult with your lawyer. Remember to read everything from your moving contract. Finally, do not sign any paper if you are not sure about any single detail that is in it.
Fail to book your movers in advance
Sometimes people decide to move all of a sudden. That is when things can become pretty hectic and it is easy to make mistakes regarding your move. One of the most common mistakes is to fail to book your movers in advance.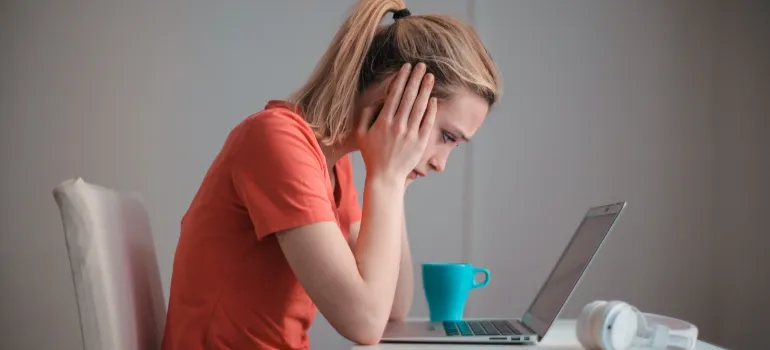 Especially if you are moving during spring or summer when the moving season is the busiest. You know that booking anything last-minute can be problematic. So, the best time to search for movers. is right away. If you do not book them on time, then you may be in a situation where no moving company is available for you. In addition, if you book movers last-minute it will definitely cost you more. Relocation is a very expensive task, and booking movers only a week or two before the move will ruin your budget. In addition, you will not have enough time to prepare for it.
Choosing the cheapest moving company
It is natural that you wish to save some money while relocating. There are many things that you need to pay for. From booking movers, buying packing materials, changing documentation, etc. When you start searching for a moving company, you will see that most of them say that they are the best and that their service is the cheapest. In reality, this is not possible, so be sure to avoid moving scams. However, what you can do is take several different quotes from movers and compare them. Prices may differ from company to company. However, you should know that there are some average costs that most moving companies charge. If the moving estimate is significantly lower than with all the other companies, this should be a red flag. Always ask yourself why would those movers charge you so much less than the others. Be careful when reading and comparing.
Other common mistakes when hiring movers
When you finally choose a moving company, they will ask you to pay for the deposit. This part can sometimes bring worries to people who are moving. You need to know that this is completely normal. However, what you should not do by any chance is to pay an enormously high or low deposit.
You have to pay this amount to secure a moving crew for the big day. You should know that the best movers are members of the American Trucking Association. Since this is one of the most valued organizations in the US in the moving industry, this is a clear sign that your movers are reputable. Another important place to look for secure movers is to read their customers' reviews. Reputable movers should have a regular rating from one to five stars. Also, there should not be all five stars in their reviews.
Since moving is a very complex procedure, there are several common mistakes when hiring moving companies. The first step to avoiding mistakes is to check the credibility of your movers. See if they have a valid working license in the field and whether they are a part of some important organization in this industry. What you need to look for is a stable company that keeps a good and professional communication with its customers. Also, they should not be either too cheap or too expensive. Finally, look for balance when it comes to every detail in making this important choice.

Everyone from the packers to the movers were awesome! They were all very professional and showed up when they were supposed to. would definitely use them again.
Let our team put together a comprehensive moving plan for you. Complete our simple free quote form or contact us at 1-208-375-0961.