10 tips for shipping your belongings from Idaho
Are you thinking about moving out of state in the next few months? If you answered yes, you are not alone. According to the newest statistics, one in ten Americans moved in the first half of the year. While most moved locally, across town, or down the street a smaller number of people embark on long-distance relocations. But deciding to move is one thing. Actually doing it requires a lot of planning. After you decide where you are going, you need to figure out how to safely transport all of your items. It is not as simple as buying some boxes and showing your belongings inside. Peasley Moving & Storage brings you expert tips for shipping your belongings from Idaho.
Number one tip for shipping your belongings from Idaho –  Choose the right shipping company
Moving your belongings from Idaho is a lot of work, especially if you are moving long distance or overseas. In order to minimize stress, it is important to choose the right moving company. This will have the biggest impact on your overall moving experience. In a sea of options, finding the perfect movers can be tough. When you are choosing between Idaho moving companies, do your research. Do not settle for mediocre movers and choose a company that:
has experience working in Idaho
has many positive reviews
fits into your budget
provides a free moving estimate before the relocation
offers services your relocation requires
provides extra services like storage, packing, unpacking
Here at Peasley Moving & Storage we offer all of the above and much more. As one of the oldest moving companies in the state, we believe we are right for the job. After more than a century of being in this business, we have the experience to safely transport your items from Idaho to any part of US. Whether you are moving down the street or cross country, our passionate moving teams will ensure everything goes smoothly.
Declutter your belongings
Moving can be a great opportunity to sort through your belongings. While it is not exactly fun, the benefits are clear to see. It is an easy way to save some time and money. Additionally, it will allow you to relocate with less stress and worry. Over the years, we all hold onto items we do not really need. Kitchen cupboards are full of random pots, clothing items you never wear, etc. When you live in one place for a long time, useless stuff accumulates without you even realizing it.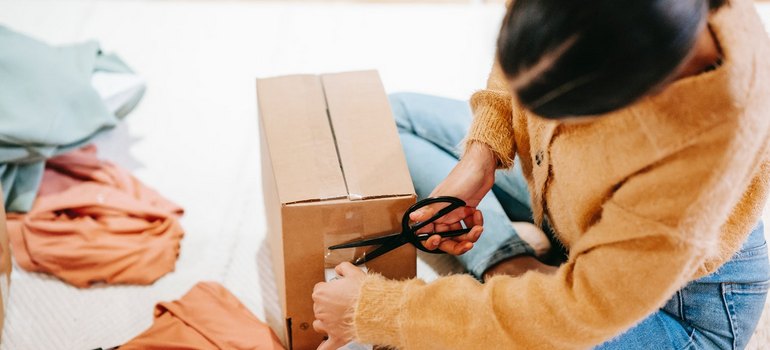 Before the move, you should give yourself enough time to consider what items are actually important. A simple way to do this is to divide everything into different categories. Things you will keep, things you can donate or sell, and items that can be recycled or thrown out. As you do this, you might find items that you love, but cannot take with you for whatever reason. One option would be to look into Idaho storage solutions. Then the items can simply wait for you in a climate control facility, and you can transport them when the time is right.
Give yourself enough time to pack
The size of your home or business is going to greatly impact how much time you need to pack everything up. If you are moving on your own, you will obviously have fewer items than a family of 4. However, you still need to give yourself plenty of time to pack. It is always better to start early than to rush things last minute. By giving yourself extra time, you can ensure everything is securely packed and prepped for shipping. After all, you do not want your items to break during transport.
Plus, starting early means you will be less stressed in the days leading up to the move. How much time is enough though? For residential moves, a minimum, of 5 days is recommended. When it comes to commercial relocations, things are a bit trickier. Due to their size and scope, it is best to leave them to the professionals. Our Boise office movers can help you plan your relocation down to the finest detail.
Pick the right level of service when shipping your belongings from Idaho
All moving companies have different levels of services you can choose. When you are looking into which type of service to pick you should consider your budget and the number of items you are shipping. Furthermore, consider how much time and effort you are willing to put into your move. If you do not mind doing certain tasks yourself, you could save yourself a bit of money. For instance, you can try packing by yourself. Invite some friends and family to help you out and it will go much quicker. Then you can opt for a lower level of service like transport only moving services.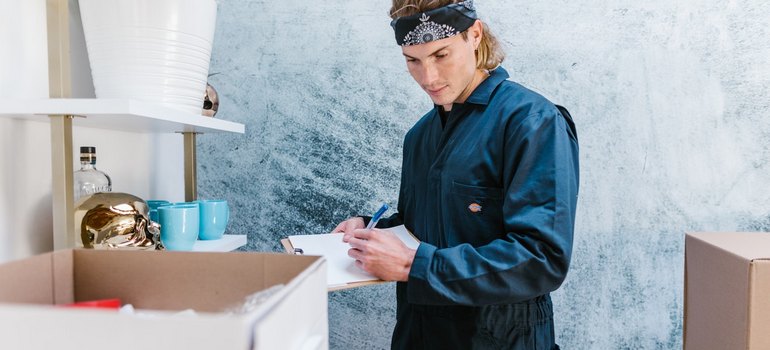 On the other hand, if you want to minimize stress opt for a full-service move. With this type of service, dealing with the transport of your items is only one part of it. Your movers will also pack, load, and deliver them straight to your doorstep. You will not have to lift a finger throughout the entire move. Moreover, workers will assist you upon arrival at your new address. They will unload and unpack your boxes. Full-service moving is also recommended when you are transporting goods in bulk or for commercial purposes. To get the best rates, look into freight shipping Boise residents recommend.
Buy high-quality packing supplies
When it comes to packing your belongings for shipping, do not just use any old boxes you have lying around. Boxes that are made specifically for shipping will be much sturdier and keep your items safe. In case your movers do not provide you with supplies, get the highest quality you can afford. If you cheap out on supplies, you run the risk of damaging your items and getting hit with extra costs at the end of your relocation. This is especially important when you are transporting fragile furniture or specialized items. Most moving companies sell all of the supplies you need. From sturdy cardboard boxes to moving blankets and sealing tape. And for commercial purposes, it is best to leave things to the professionals. Nowadays you can find specialized movers for almost anything, from medical equipment shipping services to automotive shipping.
Learn how to pack the right way
Choosing the appropriate packing materials for your belongings is not enough to ensure their safe arrival. You can have the highest quality boxes, but it will mean nothing if you just chuck your items inside without care. Moreover, different items require different packing techniques. For example, wrap glasses in newspapers or bubble wrap. Place heavy glassware and mugs on the bottom of the box. Divide each layer of glasses with cardboard or packing material. Any empty space on top needs to be filled with newspapers or packing material. This is a bit tedious, but an important process if you want your items to survive shipping. On the other hand, packing clothing for a move is a lot easier. You just have to be careful to not overstuff the boxes, or they could fall apart. Alternatively, pack some of your clothing in suitcases and save some van space.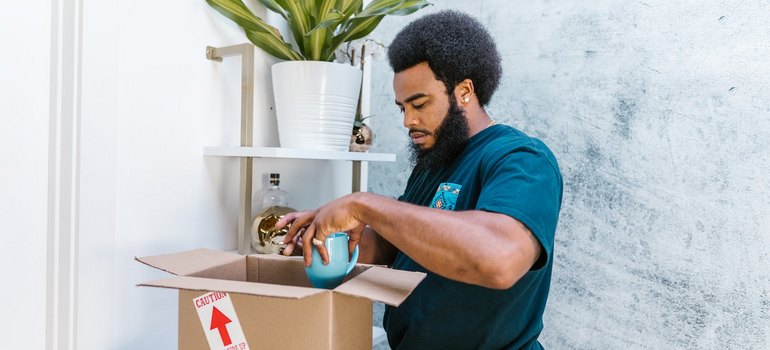 When you're shipping belongings from Idaho, disassemble everything you can
Taking apart your furniture, electronics and appliances is a great tip if you want to save money when moving your belongings out of Idaho. While the process is definitely time-consuming, it will be worth it in the end. Disassembling furniture makes it way easier to pack neatly. Additionally, it saves a ton of space in the moving van. You can do this yourself, or see if your moving company offers a disassembly service. Whatever you choose, make sure to keep all of the different parts organized and labeled. Moving can get chaotic, and you do not want to end up with a table that has only 3 legs. Do not forget about any screws and bolts! Put them in a zip lock bag and pack them alongside the furniture parts. Once the furniture is taken apart, you can follow the usual packing guidelines.
Check customs when it comes to international shipping
Customs regulations and rules are one thing many fail to research before preparing their items for shipping. Obviously, this tip does not apply to you if you are moving within the United States. However, if you are transferring your home or business overseas it is absolutely vital. Many countries have special regulations they impose on importing furniture. Maybe it does not seem obvious at first, but the rules are there for a good reason. The reason? Maintaining biosecurity. Certain types of materials (mainly wood) can be infested with pests, mold, fungi, and insects. Solid timber and plywood are the most common suspects. Other common materials are bamboo, wicker, and hemp. Any furniture made from these materials will have to be properly declared and treated before import. You will have to get special certificates to prove your items are pest-free and safe.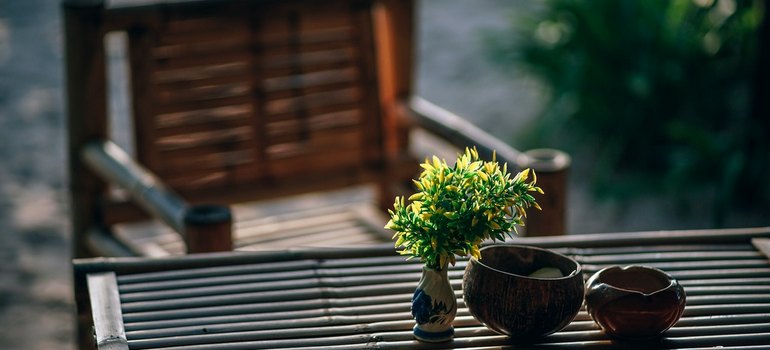 Storage solutions that work to your advantage
Do you have any items which you do not know if you should keep? Or maybe furniture that is simply too bulky and complicated to transport over long distances? Perhaps you are moving your business and do not need to have all records on hand. In that case, you should consider commercial storage solutions. A storage unit is a great option for items you do not know what to do with. It allows you to safely store your belongings until you need them again. If you want to declutter your space without actually throwing anything out, this is the perfect option for you. Additionally, modern storage facilities are often temperature controlled, so you can be absolutely sure your items will not degrade over time. In fact, your belongings will probably be preserved better in a dedicated facility than in your home or office.
Keep in mind the risks and always choose professional assistance
Accidents can happen no matter how careful you are when packing your belongings. Transporting goods across long distances always carries a small risk of things going wrong. You or your movers can do everything right but sometimes things happen that are out of anyone's control. Most people assume that homeowners' policy also applies to their items when moving. That is not actually the case! If your vase breaks during a move, it is very possible that situation is not covered in your policy. Before you even think about moving, check the details of your policy. If you do not have sufficient coverage, we strongly advise you to purchase some. Especially if you're shipping things of great sentimental or monetary value.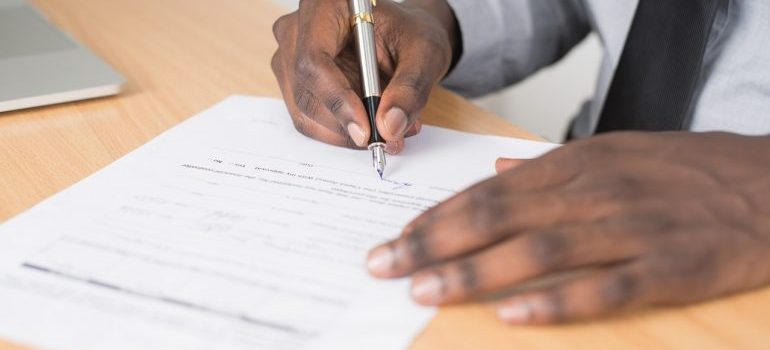 To conclude, shipping your belongings from Idaho definitely has its risks and challenges. From managing your time and budget to choosing the right movers and level of service, many variables are at play. At times, it can seem too daunting and stressful. But you should not let it sour your move. As long as you don't rush the process and take your time to prepare, everything will go smoothly on moving day. And with the advice provided by our relocation professionals, you can hopefully avoid some of the most common mistakes people do when shipping items.
Let our team put together a comprehensive moving plan for you. Complete our simple free quote form or contact us at 1-208-375-0961.